Stomach Balm. Solyanka Meat
by Editorial Staff
Solyanka always confidently held the primacy among my favorite dishes "for the first time", falling into the category of festive dishes, because I try to cook it infrequently, so as not to become boring. Over time and the amount of cooked hodgepodge, I came to approximately one recipe for the hodgepodge of the meat team.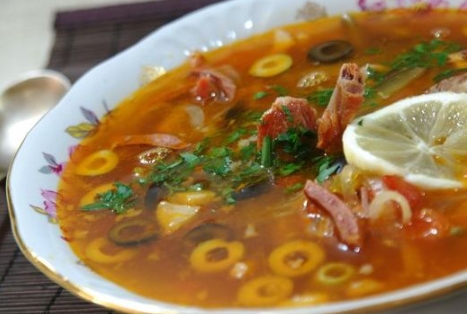 Cook: 3 hours
Servings: 10
Ingredients
(For 3 liters of water)
Beef brisket – about 1.2 kg
Small onions – 4 pcs.
Medium tomatoes – 4-5 pcs.
Tomato paste (good, tasty, for the sake of color) – 1 teaspoon
Smoked meats (3-4 types are enough for me, I definitely take smoked ribs) – 300-400 g (100 grams)
Pickled cucumbers in barrels – 2-3 pcs. (if large, take less)
Pickled or salted mushrooms (we don't have our own, so we buy at the bazaar; store-bought mushrooms are quite suitable) – 2-4 tbsp
Vegetable oil – 1-2 tbsp
Lemon – 2-3 circles
Salt to taste
Sugar to taste
Additionally (to taste and desire):
Olives (olives)
Capers
Greens
Sour cream (and other bonus)
For broth (optional)
Roots (parsley, etc.) – 2 pcs.
Carrots – 2 pcs.
Bay leaf – 2 pcs.
Black peppercorns – to taste
Directions
Peel the brisket from the films and cook ordinary broth from it. Fill with water, wait for a boil and remove the foam in several stages. Then you can put a couple of roots and carrots, bay leaves and black peppercorns. Here at will.Fire – at a minimum. Let the broth simmer under the covered lid for about 2 hours. (Recently, I've been making broth with chicken thighs as well. Mine like that better, and I don't mind extra meat.)

While the broth is boiling, you can continue the process. Cut the onion into thin half-rings and sauté with a little oil over medium heat, avoiding browning. Adjust the temperature and cook for a few minutes, until the onions are translucent.

Remove the peel from the tomatoes, as usual (pour boiling water for this for a minute). Finely chop the peeled tomatoes and add to the onion. Continue cooking until the tomato juice has evaporated.
Add tomato paste (just a little – a teaspoon). At this stage I try, and if the tomatoes give a little acidity, I add a little sugar.
Let's assume that the broth is ready. Now the meat can be removed, and the broth can be carefully filtered.
Now you can add the tomato and onion stir-fry to the broth
The next stage is the laying of meat products.
You can cut the smoked meats as you like, but usually, they are straws.
In my case, the meat consisted of boiled-smoked brisket, "hunting-mini" sausages and ribs.
When the beef brisket has cooled, cut it as well and return it to the broth along with the cartilage.
Now it's the turn of the cucumbers. Cut them in the same way, into strips.
At the final stage, you can add a couple of circles of pitted lemon and zest. And a couple of spoons of mushrooms. I love mushrooms, so I put them on a spoon or two more.
Almost all. Now everyone adjusts the salt/sugar hodgepodge for himself.
And then, despite the desire and appetite, you need to let the hodgepodge brew.
As it is infused, everyone adds whatever their heart desires to their plate: another circle of lemon, olives and olives, capers, sour cream. Chopped greens, after all.

In this form (here, however, without chicken thighs) I cook and love hodgepodge. Well, then … it's up to you to decide.
Enjoy your meal!
Also Like
Comments for "Stomach Balm. Solyanka Meat"