Chicken Stomach Pate
by Editorial Staff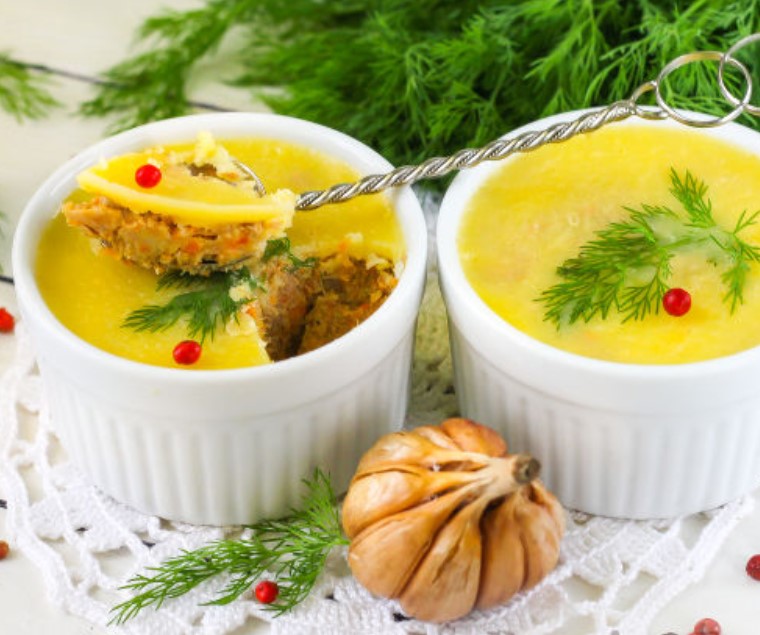 Delicious chicken stomach pate can be served not only for lunch or dinner, but also for breakfast with toasted toast. Its taste is so vivid that no one will guess what this dish is actually made of!
Cook: 2 hours 30 mins
Servings: 4
Ingredients
Chicken stomachs – 0.5 kg
Carrots – 1 pc.
Bulb onions – 1-2 pcs.
Butter – 80 g
Bay leaf – 2 pcs.
Cognac – 30 ml
Vegetable oil – 30 ml
Allspice peas – 5-6 pcs.
Salt to taste
Ground black pepper – to taste
Directions
Prepare the required ingredients for the chicken stomach pate. Defrost chicken stomachs beforehand (if frozen).

Empty the stomachs by rinsing immediately in water.
Place in a saucepan, cover with hot water and boil for 40 minutes, adding bay leaves and allspice peas. Skim off the resulting foam.
Once the stomachs are cooked, remove the container from the stove.
Drain the stomachs in a colander, but do not pour the broth – you will need it.
Cut the boiled stomachs into small cubes.
Fry them in 50 g butter in a skillet for about 5-6 minutes.
Pour in the cognac and simmer for another 2-3 minutes. Turn off the heating.
Peel vegetables, rinse them, cut into small cubes. Carrots, if desired, can be grated on a fine grater.
Salt vegetables in vegetable oil for about 3-4 minutes until tender.
Add spices.
Add stomachs. Simmer for about 3-5 minutes. Add broth if necessary.
Then pour the mixture into a deep container and purée with an immersion blender, adding broth if necessary.
Divide the cooked mass into molds.

Melt the remaining butter and pour over the pate. Place the molds in the refrigerator for 40 minutes
Remove the pâté trays and taste the prepared dish by spreading it on the bread.
Bon appetit!
Also Like
Comments for "Chicken Stomach Pate"