Cucumber Pate
by Editorial Staff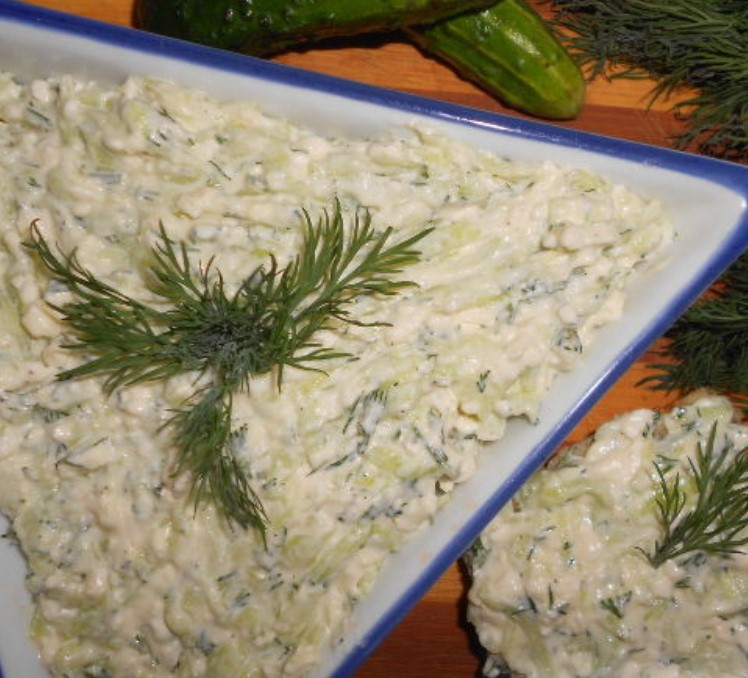 Delicate pate with fresh cucumbers and herbs is prepared on the basis of butter and melted cheese. Cucumber pate is ideal for breakfast sandwiches and can be prepared in advance and stored in the refrigerator.
Ingredients
Large cucumbers – 4 pcs. (400 g)
Dill greens – 1 bunch (30 g)
Butter – 70 g
Processed cream cheese – 100 g
Mayonnaise – 1 tbsp (25 g)
Ground pepper – 0.5 teaspoon
Salt – 0.5 teaspoon
Directions
Prepare food. Remove the butter from the refrigerator in advance, it should be soft. Processed cheese should be soft. You can use spread cheese in a plastic box or creamy processed cheese-like "Friendship", but make sure that it contains at least 55% fat and only use a quality product.
Wash the cucumbers, peel them, trim around the edges. Be sure to try the cucumbers, they shouldn't be bitter
Grate the cucumbers on a coarse grater and squeeze the cucumber juice.
If you are using processed cheese in the form of bars, then grate it on a coarse grater.
Chop the dill herbs.
Combine the cucumbers with dill, butter, cream cheese, and mayonnaise.

Pepper and salt the cucumber pate to taste.
Paste made of processed cheese, cucumbers and herbs is ready.
For long-term storage, ready-made cucumber pate can be placed in an airtight container and put in the refrigerator. Such a snack is stored for about 3 days.
Bon appetit!
Also Like
Comments for "Cucumber Pate"