Croutons with Avocado Pate
by Editorial Staff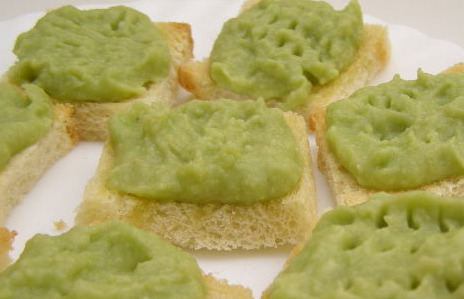 Avocado pate is exotic in itself. And if you also serve it on croutons or, in a fashionable way, croutons …
Cook: 20 minutes
Servings: 8
Ingredients
Avocado – 1 pc.
Bread – 4 slices
Olive oil for dressing – 6-7 tbsp
Olive oil for croutons – 3 tbsp
Lemon juice or apple cider vinegar – 2 tbsp
Dry white wine – 1 tbsp
Salt to taste
Sugar (optional) – to taste
How to make avocado pâté croutons:
Directions
Cut the crouton bread into thin slices. Cut off the crusts, cut into portions.
Grease slices of bread with olive oil and dry them in the oven or microwave (grill). Cool the finished croutons.
Cut the avocado, remove the peel and bone, mash in mashed potatoes. You can mash the avocado with a fork, purée it with a blender, or rub it through a sieve, depending on how smooth and smooth you want it to be.
Add olive oil, lemon juice (or apple cider vinegar), wine, salt, sugar. Stir the avocado pate until smooth.
Gently place the avocado pate on top of the bread slices. Cool the croutons with avocado pate before serving.
Bon Appetit!
Also Like
Comments for "Croutons with Avocado Pate"