Croutons with Potato and Egg Pate
by Editorial Staff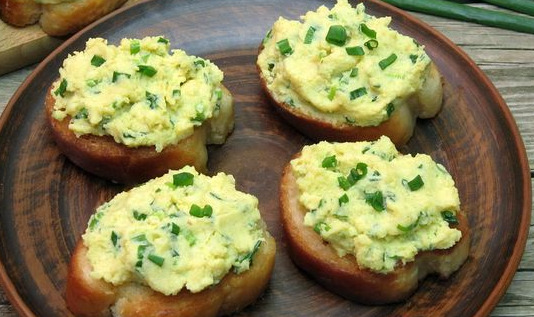 An excellent breakfast of simple products – hearty croutons with a delicate plate of potatoes and eggs. Despite the absence of meat, such a potato-egg pate with the addition of green onions turns out to be very nutritious and tasty.
Ingredients
For the pate:
Potatoes – 300 g
Eggs – 5 pcs.
Butter – 150 g
Mustard – 3 teaspoon
Green onions – 50 g
Salt to taste

For croutons:

White bread – 9-10 slices (250-300 g)
Vegetable oil (for frying) – 30-40 ml
Directions
Peel the potatoes, cut into small pieces, fill with a little water and boil until soft for about 15-20 minutes.
Drain the water completely from the potatoes. Knead the boiled potatoes in mashed potatoes and leave to cool to room temperature.
Boil the eggs hard-boiled for about 8-10 minutes in boiling salted water. Then fill with cold water and leave to cool.
Separate the egg yolks from the whites. We no longer need proteins, they can be used for other dishes, for example, for salad.
In a blender, mix together the butter, egg yolks, and mustard.

We bring everything to a homogeneous mass and salt to taste.
Finely chop the green onion.
Cut the bread into slices approximately 1.5 cm thick.
Grease the pan with a small amount of vegetable oil (about 10 ml). We spread the bread.
Fry the bread on both sides over low heat until golden brown. Add vegetable oil as needed.
Combine mashed potatoes, the egg-oil-mustard mixture in a bowl. Add the chopped green onions.
Mix everything thoroughly and salt to taste (if required).

Spread the finished potato and egg pate on croutons and serve.
Enjoy your meal!
Also Like
Comments for "Croutons with Potato and Egg Pate"