Rye Croutons with Garlic and Egg
by Editorial Staff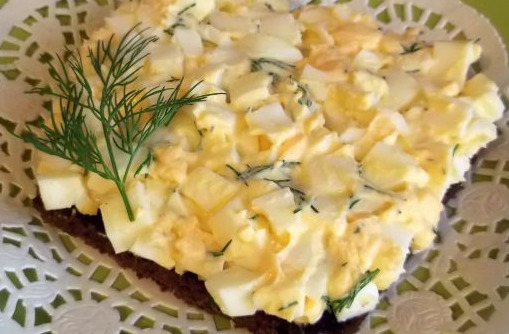 A quick, nutritious sandwich of toasted rye bread and boiled eggs with mayonnaise and herbs.
Servings: 1
Ingredients
Black bread – 1 slice
Eggs – 1-1.5 pcs.
Mayonnaise – 10-15 g
Garlic – 0.5 cloves
Butter – 20 g
Dill greens – 1-2 branches
How to cook garlic rye croutons:
Directions
Spread butter on the bread (leave 5-7 g for frying).
Melt the remaining butter in a skillet, put the bread in the pan, greased side up.
When the underside of the bread is browned, turn it over and fry again. Then remove from the pan and cool.
Hard-boiled eggs (10 minutes). Chill, peel, and chop finely.
Chop the dill.
Mix eggs, dill, and mayonnaise into a homogeneous mass.

Peel a clove of garlic, cut it in half. Rub the toasted bread with garlic on one side.
Put the egg mass on rye toasts with garlic on the side from which the bread was greased with garlic. Spread over the surface.

Decorate the rye croutons with garlic and egg with a sprig of dill.
Bon Appetit!
Also Like
Comments for "Rye Croutons with Garlic and Egg"