Borodinsky Croutons with Garlic and Garlic Sauce
by Editorial Staff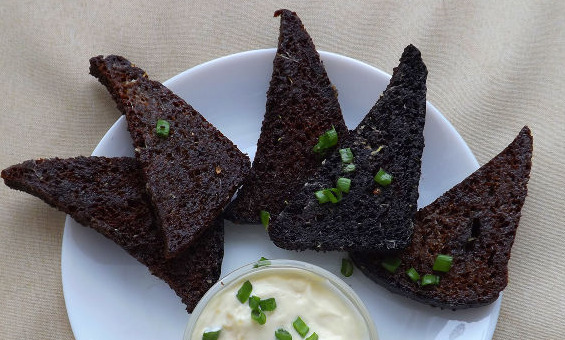 My first publication here, do not judge strictly! =) Borodino croutons with garlic are very great as a snack for a beer after a sauna, for example. And just when you want something like that!
Ingredients
Sliced ​​Borodinsky bread – 1 pack
Garlic – it took me 4 medium cloves for 5 croutons + sauce
Frying oil (I have refined)
Mayonnaise of your liking for the sauce
Green onion (I used for decoration)
How to cook Borodino croutons with garlic:
Directions
So, heat up the frying pan, pour in the oil. While the pan is heating, we cut slices of bread diagonally, and send 2-3 pieces of bread to the pan, so much so that our croutons are half in butter. Fry until crusty on both sides and remove. Throw in the next batch (add oil if necessary).
While a new batch of croutons is being fried, cut a clove of garlic lengthwise and rub each crouton on both sides. Caution – the croutons are hot, do not burn yourself! We rub it to your taste – either a little or a good deal! I have worn out 1 clove of garlic for 2 croutons. We put all our croutons on a plate.
Now the sauce. I do not bother and mix 3-4 tablespoons of mayonnaise with 2 cloves of garlic, grated on a fine grater. And all this in the gravy boat.
We decorate what we have created as needed and at will, I have green onions. Voila! Bon appetit to everyone, it turns out quickly and very tasty!
Enjoy your meal!
Also Like
Comments for "Borodinsky Croutons with Garlic and Garlic Sauce"