Egg Croutons with Eggplant and Cheese
by Editorial Staff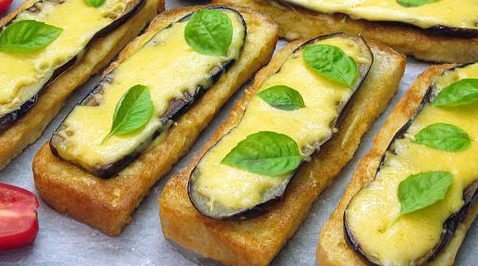 Eggplant and cheese croutons are a great alternative to regular sandwiches. Pieces of bread are dipped in an egg and fried in a pan, which makes them tender and soft. Fried eggplant plates are laid out on top, sprinkled with grated cheese with garlic, and heated in the microwave. These are the original, very tasty and fragrant "sandwiches".
Servings: 3
Ingredients
Directions
Cut the eggplants into slices about 0.7 cm thick.
Sprinkle the eggplant slices with salt and leave for about 20-30 minutes. This will help get rid of excess bitterness if any.
Then we wash the eggplant plates and dry them with a paper napkin.
Break the eggs into a bowl. Add some salt.
Mix with a whisk or fork until smooth.
Dip slices of bread in the egg mixture on both sides.

Heat vegetable oil in a frying pan and put bread slices in a frying pan.
Fry over medium heat for about 1-2 minutes on each side, until the desired degree of browning.
So we fry all the bread, adding vegetable oil as needed.
In the same frying pan in which the bread was fried, put the eggplant plates, and lightly sprinkle them with salt.
Fry the eggplants over medium heat for about 2 minutes on each side, until soft. Put the fried eggplants on a paper towel to absorb the excess oil.
Put the eggplant on the croutons.
Rub the cheese and garlic on a medium grater.
We mix.
Sprinkle the croutons with garlic cheese.

We send the croutons to the microwave and cook at 800 W for about half a minute until the cheese melts.
Enjoy your meal!
Also Like
Comments for "Egg Croutons with Eggplant and Cheese"