Croutons (Croutons)
by Editorial Staff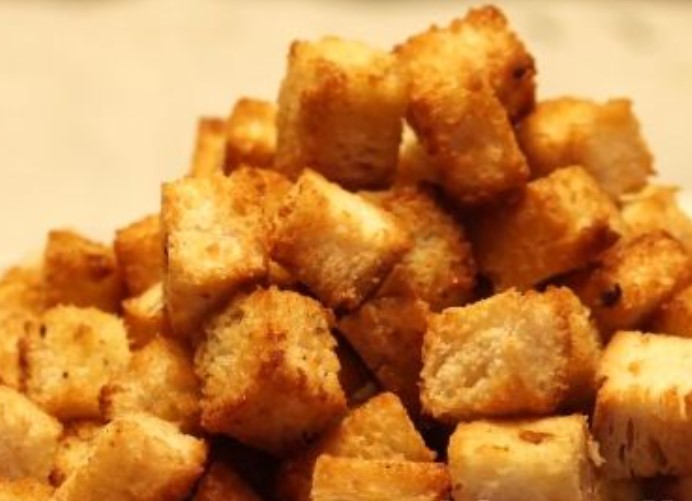 Croutons or, as they are also called, croutons, prepared according to this recipe with garlic, can be served with beer, soup, or prepare a delicious salad with them.
Ingredients
White stale bread – 400 g
Butter – 50 g
Olive or other vegetable oil – 50 g
Garlic – 1-2 cloves
Salt – 1 teaspoon without top
Ground black pepper – 0.5 teaspoon
Directions
We prepare products for croutons or croutons.
White stale bread, 400 grams, cut into 1 cm cubes, put in a bowl and set aside.
Grind 1-2 garlic cloves and place in a separate bowl. Add half a teaspoon of black pepper to the garlic, or to taste. Add one teaspoon without top of the salt.
Add 50 grams of melted butter and 50 grams of olive oil or another oil of your choice, and mix.
Add the mixture to the prepared bread, mix.

We spread it on a baking sheet, level it and send it to an oven preheated to 220 degrees Celsius for 8-10 minutes. We take out the finished crackers from the oven.
Serve with beer or soup, or use croutons for salads.
Bon appetit!
Also Like
Comments for "Croutons (Croutons)"