Masonic Croutons
by Editorial Staff
Our family loves zucchini so much that they would eat them for breakfast, lunch and dinner. For a long time, I could not imagine how to serve zucchini for breakfast until I came across this recipe for Masonic toast. These croutons with fried zucchini, tomatoes, and cheese have taken root in our family for a long time! And even if the fried zucchini in their original form had already refused to eat, they went off with a bang as part of these croutons!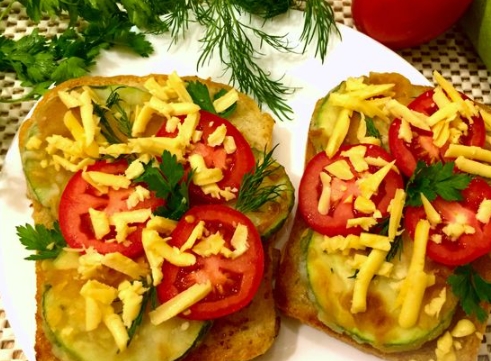 Cook: 40 mins
Servings: 4
Ingredients
Bread "Brick" or toast – 1 pc.
Young zucchini – 1 pc.
Egg – 1 pc.
Milk – 50 ml
Wheat flour – 50 g
Garlic – 2 cloves (to taste)
Tomatoes (small) – 3 pcs.
Hard cheese – 50 g
Parsley – 2 sprigs
Dill greens – 2 sprigs
Salt – 0.25 teaspoon (to taste)
Vegetable oil – 3 tbsp
Directions
Rinse the zucchini and, if the skin is damaged, peel. Cut the courgette into small slices.

Beat the egg and salt with a fork.

Stir the egg with milk.
Moisten zucchini slices in cooked lezon.
Then roll the zucchini in flour.
Preheat a skillet with 2 tablespoon. tablespoons of vegetable oil and fry the zucchini over low-medium heat for 5 minutes on each side (until tender).
You may need a little more oil, it all depends on the dia of the pan.
Place the fried zucchini on a plate with paper towels to remove any excess oil.
Cut the bread into slices 1 cm thick.
Heat the remaining butter in a skillet and fry the bread slices over medium heat for 2 minutes on each side.
Cut the tomatoes into slices.
Grate cheese on a coarse grater.
Peel the garlic and chop finely with a knife.
Place 3 slices of zucchini on the prepared croutons. Sprinkle garlic toasts with zucchini.
Put 3 slices of tomato on top. Decorate the croutons with dill and parsley sprigs.
Sprinkle cheese toasts with zucchini and tomatoes.

Serve croutons to the table with tea or coffee.
Bon Appetit!
Also Like
Comments for "Masonic Croutons"