Croutons with Cheese
by Editorial Staff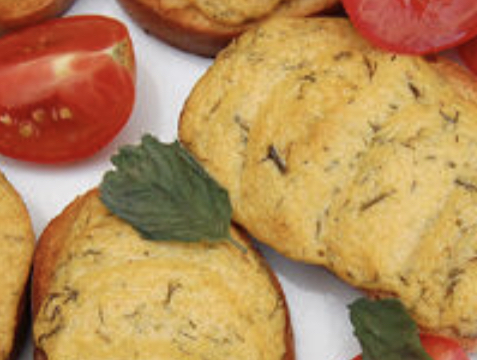 I still have such a smell in the kitchen … Stunned – don't get up! I just finished making cheese croutons. You just made it on time, five minutes ago they were not ready yet, and you would have come in five minutes later – you would not have seen anything – there is one cheese lover in the family, he reacts to the smell like a cartoon character Roquefort. I have to close the kitchen almost with a lock while I cook. So I asked him to pose for a photo, and he says to me: "I will hold your grater with cheese, and you will cut off a piece of cheese for me." Young extortionist. After one photo, I had to refuse help – there was not enough cheese to pay.
Ingredients
White bread – 6 slices
Butter – 3 tbsp (50-60 g)
Hard cheese – 200-250 g
Eggs – 2 pcs.
Beer – 0.5-0.75 cups (125-185 ml)
Mustard – 1 teaspoon
Ground red pepper – 0.5 teaspoon.
Chopped dill greens
Salt to taste
Directions
You can see everything we need to make croutons with cheese in the photo:
white bread, butter, hard cheese, eggs, beer, mustard, red pepper, salt.
Take a loaf of white bread and cut six thick slices (10-15 mm). Put the slices in a dry frying pan (well, you can rub them with vegetable oil) and fry until light golden brown. If you wish, the bread crust can be cut off beforehand.
While the bread is fried, rub 200-250 grams of cheese on a fine grater.
White bread croutons are fried – put three tablespoons of butter in a frying pan, stirring constantly, add cheese, add 0.5-0.75 glasses of beer, continue stirring over low heat. Season this porridge with a teaspoon of mustard and half a teaspoon of ground red pepper. Remove the sample, salt if necessary.
Take two fresh chicken eggs and separate the yolks from the whites. We just need yolks, and proteins … are also useful, you can make marshmallows out of them, for example.
Beat the yolks and pour into a skillet to the total mass (continue stirring). All this gruel, stirring, needs to be warmed up well for 5 minutes, but not to boil – as soon as bubbles appear – set aside.
The result is a mass of thick sour cream consistency. Here, to make the croutons with cheese even tastier, you can add finely chopped ham, pieces of bell pepper, fried mushrooms. I poured in a handful of chopped dill.

We heat the oven, lightly grease the baking sheet with butter, spread the croutons with cheese mass – and in the oven, bake the croutons with cheese to brown (10-15 minutes).
Then we get the croutons of white bread with cheese – on the dish. If you have enough patience, overlay slices of tomatoes, herbs, and while hot – yum-yum. Eat, it will be delicious just like that, and with a light soup, it will be good.
Enjoy your meal!
Also Like
Comments for "Croutons with Cheese"