Onion Soup with Croutons and Cheese
by Editorial Staff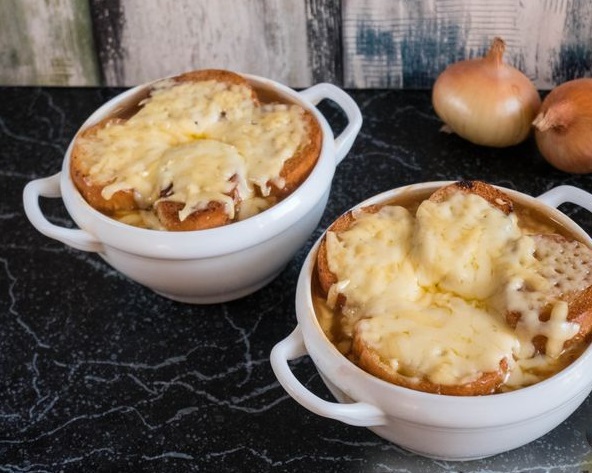 The process of making onion soup is lengthy but worth it. Rich, aromatic onion soup with croutons and cheese will not leave you indifferent!
Ingredients
Onions – 1 kg
Butter – 50 g
Flour – 1 tbsp
Salt to taste
Ground black pepper – to taste
Beef – 500 g
Onions – 150 g
Carrots – 150 g
Black peppercorns – 5-6 pcs.
Salt to taste
Baguette – 1 pc.
Butter (for frying) – 30 g
Hard cheese – 50 g (for 1 serving of soup)
Directions
Let's start cooking with broth. Let's prepare the necessary ingredients.
Peel the onions and carrots.

Pour the beef with 1 liter of water, bring to a boil, remove the foam, and cook for 1 hour.
Coarsely chop the carrots and onions.
After an hour, add carrots, onions, and peppercorns to the pan. Salt. Cook the broth for another 30 minutes.
Strain the finished broth. The meat can be used to make a salad.
To prepare the soup, we need 500 ml of broth.
Let's prepare the rest of the ingredients.
Peel the onion and cut into half rings.
In a skillet or saucepan with a thick bottom, melt the butter, add the onion and lightly fry.
Add flour and mix.
Pour in 250 ml of broth. Cover with a lid and simmer for 20-30 minutes, stirring occasionally.
Then add the rest of the broth. Salt and pepper to taste.
Simmer for about 20 minutes.
In the meantime, let's start making croutons.
Cut the baguette into slices. Calculate the number of croutons based on the size of the broth, so that the croutons "cover" the entire surface of the broth with soup.
Melt the butter in a frying pan and fry the baguette slices on both sides.

Rub the cheese on a coarse grater.
Remove the soup from the heat.
We turn on the oven to heat up to 180 degrees.
Pour the soup into bouillon dishes. The bouillonnits should be heat-resistant and can be used in the oven.
Place croutons on top.
Sprinkle with grated cheese on top. We send the broths to a preheated oven so that the cheese melts and slightly browns (for 15-20 minutes).
Onion soup with croutons is ready. Good appetite!
Also Like
Comments for "Onion Soup with Croutons and Cheese"