Croutons with Cheese and Sausage
by Editorial Staff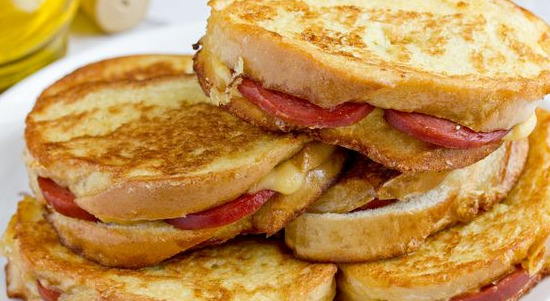 Following this recipe, you will get wonderful croutons with cheese and sausage – hearty, mouth-watering, and very tasty! These fried sandwiches make for a delicious breakfast or a convenient snack.
Cook: 25 minutes
Servings: 7
Ingredients
White bread – 1 loaf
Sausage – 200 g
Hard cheese – 100 g
Eggs – 2 pcs.
Milk – 60 ml
Sunflower oil for frying – 60 ml
Directions
Cut the loaf into slices about 2.5 cm wide.
Now cut each slice of the loaf in half, but not completely. You should have bread pieces like pockets.
Peel the sausage and cut it into thin slices.
Also, cut the hard cheese into thin slices.
Now take one slice of bread, open it, and put two slices of sausage and two slices of cheese in it.
This way shapes the rest of the sandwiches.

Break the eggs into a bowl, pour in the milk. Loosen with a fork.

Heat the sunflower oil in a skillet. Dip a couple of sandwiches in the egg and milk mixture to soak the bread on both sides.
Fry the croutons over medium heat until golden brown on both sides. During this time, the cheese should have time to melt.
Transfer the fried croutons to paper napkins. Fry all the croutons in the same way.
Enjoy your meal!
Also Like
Comments for "Croutons with Cheese and Sausage"