Croutons Stuffed with Vegetables, Mushrooms and Cheese
by Editorial Staff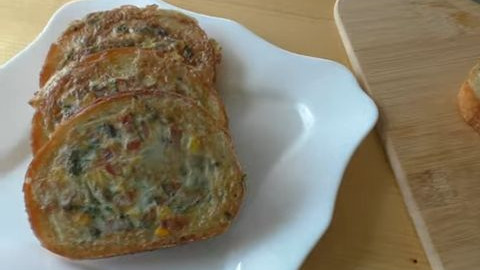 A fantastically delicious breakfast or snack idea! Everything is easy and simple to prepare, and there are certain products in every home. Such croutons stuffed with vegetables, mushrooms, and fresh herbs will be eaten by everyone, and children will ask for more!
Ingredients
White bread (or loaf) – 4-6 slices
Yellow zucchini (or sweet pepper) – 1/2 pc.
Tomato – 1/2 pc.
Eggs – 2 pcs.
Champignons (frozen) – 2 pcs.
Hard cheese – 20-30 g
Fresh parsley – to taste
Salt – 1 pinch
Ground black pepper – to taste
Vegetable oil – for frying
Directions
The main thing is to finely chop everything into cubes – I'm talking about the filling – tomatoes (I took only the pulp), zucchini, frozen mushrooms, and fresh herbs. Grate cheese on a coarse grater. You can add what you like (sausage, bell peppers, etc.)
Add a pinch of salt to the eggs, and here – freshly ground black pepper to taste, prepared vegetables with herbs and mushrooms. Mix the filling well with a whisk.
Cut the bread into pieces (about 1.5-2 cm thick) and cut out the middle (crumb) – we do it carefully.
Preheat a frying pan with a small amount of vegetable oil and layout the crusts – blanks from the loaf. In the center, where the crumb was, pour the filling (without adding to the edge of the crust). It is best to start with the thick part, so the egg will not flow out. Add a little grated cheese on top of the filling – a pinch at a time.

For each piece of bread, return the second part of the blanks and lightly press in the center.
Fry croutons on both sides until appetizing golden brown.
Enjoy your meal!
Also Like
Comments for "Croutons Stuffed with Vegetables, Mushrooms and Cheese"