Homemade Chicken Liver Pate
by Editorial Staff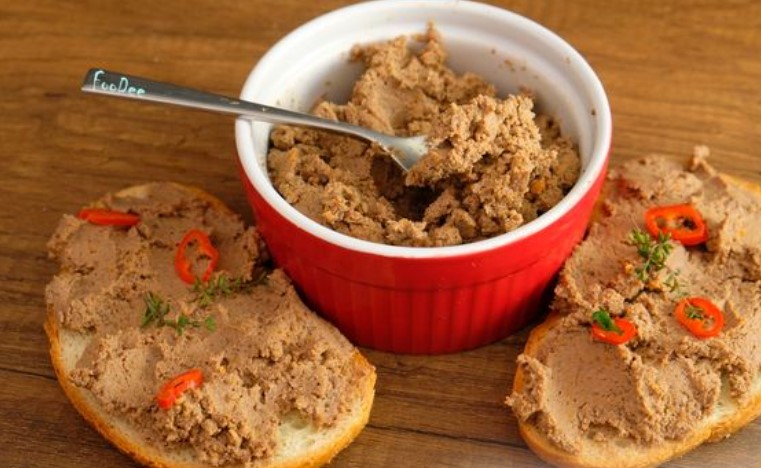 A very tasty and healthy chicken liver dish – liver pate. It is prepared very easily and quickly. Delicious homemade pâté made from chicken liver, onions, carrots and butter – you just can't buy it in a store! A delicate and soft paste for sandwiches is obtained from the minimum amount of ingredients.
Cook: 40 mins
Ingredients
Chicken liver – 500 g
Butter – 100-200 g (or to taste)
Vegetable oil – for frying
Bulb onions – 1 pc.
Carrots – 1 pc.
Black peppercorns – 5 pcs.
Allspice peas – 2-3 pcs.
Bay leaves – 1-2 pcs.
Salt to taste
Directions
Before making chicken liver pate, prepare the necessary products.

Cut the onion into half rings.
Rub the carrots on a coarse grater.
fry the onion in vegetable oil until transparent.
Add carrots. Fry until soft over medium heat.
We wash the liver well, dry it with paper towels and cut it in half.
Remove the onions and carrots from the pan. Lightly fry the liver on all sides.
Add spices.
There – fried onions and carrots, 1 tablespoon. a spoonful of butter from the total. Simmer covered for 20 minutes.

We remove all the spices so that they do not come across in the finished pate. We pass the liver with vegetables through a meat grinder (I have a nozzle with the smallest holes).
Add soft butter. (If desired, you can add more butter than indicated in the recipe – liver pate will be softer and softer, but also fatter.)
The liver pate is ready. You can enjoy homemade tender chicken liver pate. It is perfect as a snack or a hearty breakfast.
Bon Appetit!
Also Like
Comments for "Homemade Chicken Liver Pate"