Liver and Meat Baked Pate
by Editorial Staff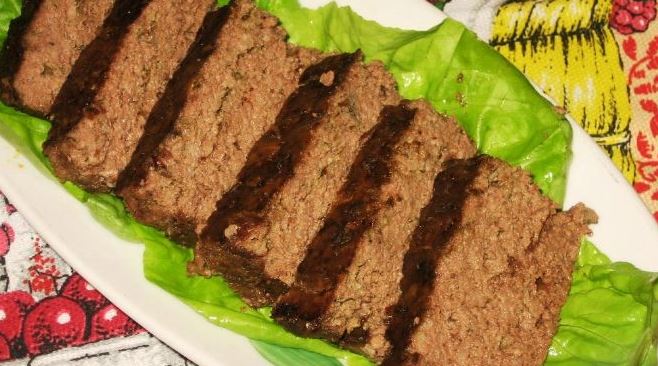 Pork and liver casserole. It is easy to prepare baked liver and meat pate, it turns out a lot.
Cook: 25 minutes
Servings: 12
Ingredients
Pork liver – 500 g
Pork pulp – 250 g
Pork fat (lard) – 350 g
Garlic – 2 cloves
Bulb onions – 1 pc.
Egg – 1 pc.
White stale bread – 3 slices (no crust)
Cream 10% – 150 ml
Salt to taste
Ground black pepper – to taste
Thyme to taste
Vegetable oil – 2 tbsp
Directions
Cut the meat, bacon, and liver into small pieces.

Soak the crustless bread in the cream.
Skip meat, liver, bacon, soaked bread, and onion through a meat grinder. Add egg, salt, and spices. Mix well.

Add the garlic passed through a press and mix more.
Grease a baking dish with vegetable oil. Put the prepared minced meat in a mold and level the surface. Lubricate with vegetable oil on top. Bake in an oven preheated to 180 degrees for 40-60 minutes (baking time depends on the thickness of the meat layer). Allow the finished pate to cool slightly in the mold, then walk along the edge with a sharp knife, if necessary, and transfer the pate to a dish.
Baked pâté is good both warm and cold. It turned out to be quite a lot, so there is enough for sandwiches, and you can cook delicious pies.
Chopped meat and liver pate.
Bon Appetit!
Also Like
Comments for "Liver and Meat Baked Pate"