Duck Liver Pate, with Orange Jelly
by Editorial Staff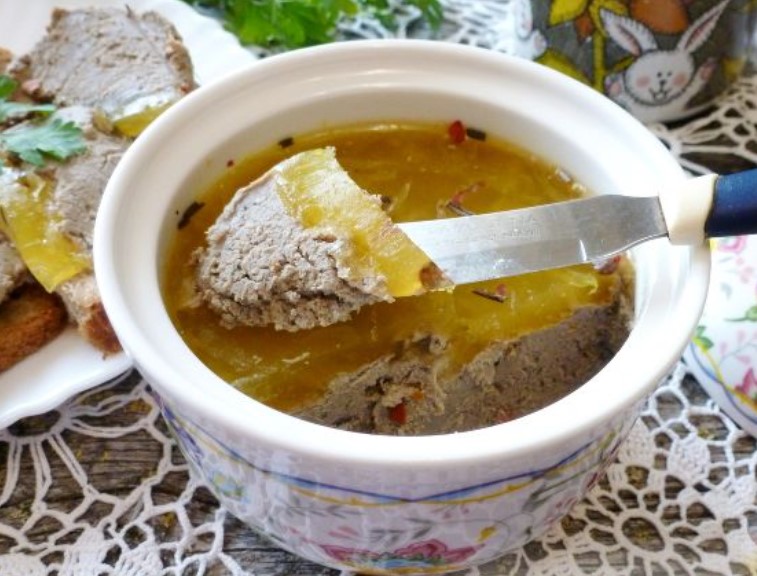 Serve a delicious homemade duck liver pate for breakfast to your family and they will forget about the store-bought pate and sausages. Cooking duck liver pate under orange jelly is not difficult and fast, and the result is worthy of a restaurant serving.
Cook: 2 hour
Ingredients
For the pate:
Duck liver – 500 g
Bulb onions – 2 pcs.
Dates – 5 pcs.
Butter – 120 g
Cognac – 50 ml
Dry mustard – 1.5 teaspoon
Orange zest – 0.5 teaspoon
Provencal herbs – 0.5 teaspoon
Garlic – 2 cloves
Dried nutmeg – pinch
Chili pepper – to taste
Salt to taste
*
For jelly:
Orange (large) – 1 pc.
Gelatin – 10 g
Water – 30 ml
Sugar – 1 tbsp
Pink pepper and white peas – to taste
Fresh rosemary – to taste
Directions
Prepare foods for duck liver pate. Peel the onion and garlic. Wash the orange. Wash the duck liver well, cut off the films and fat, cut each into 2-3 pieces.
Soak chopped duck liver in milk for 1-2 hours. So the liver will become softer and softer, the bitterness inherent in the liver will go away.

Pour the dates with hot water to soften them a little.
Squeeze the juice out of the orange and peel off the zest. Remove the bones. If desired, the juice can be filtered through a sieve to free it from the pulp.
Chop the onion and garlic. How to cut it does not matter, since then everything is crushed into pate.
Pull the bones out of the dates and cut the dates into pieces.
Melt the butter in a skillet. Fry the onion, garlic and chili on it until the onion is transparent.
Add dates and simmer over low heat for 10 minutes, until dates are quite soft.
Add duck liver to the pan. Simmer, stirring occasionally, until the liver is brown. When the liver is punctured, clear juice flows out.
Add zest, pour in cognac, add Provencal herbs and cook for another 5 minutes. Salt to taste.

Add dry mustard and nutmeg. Stir and cook for 2 minutes. Turn off the stove.
Put the stewed liver in a blender bowl.
Kill until puree.
Add 30 ml of boiled water and sugar to orange juice, stir. Pour in gelatin. Leave to swell for 5 minutes. Then heat in the microwave for a few seconds until the grains dissolve. Do not boil! Strain the future orange jelly.
Place the duck liver pate in the lidded bowls (or containers).
Pour orange jelly over the pate. Sprinkle with pink and white peppercorns and rosemary needles on top. Leave the duck liver pate under the orange jelly in the kitchen for 15-20 minutes until the jelly cools down, then refrigerate.

Duck liver pate, with orange jelly, served for breakfast or a snack, with a fresh baguette, with toast, with cereal bread.
Bon Appetit!
Also Like
Comments for "Duck Liver Pate, with Orange Jelly"