Liver Pate with Quince
by Editorial Staff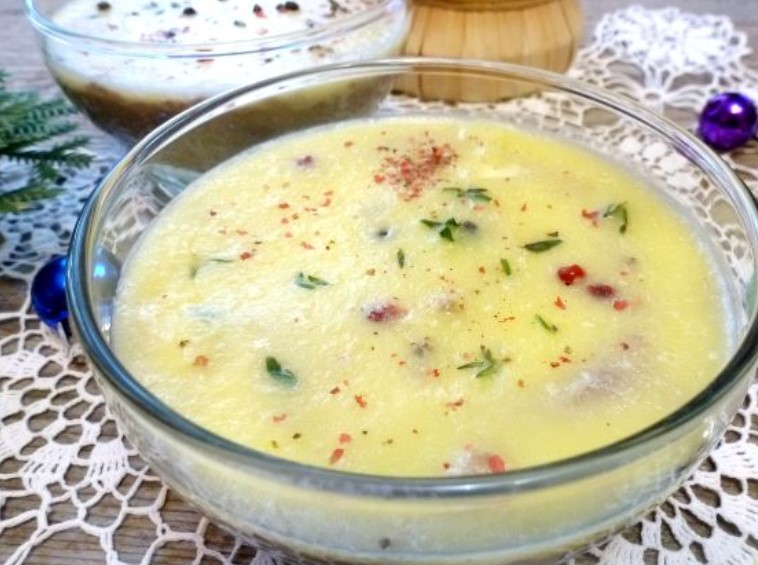 Prepare liver pate for the festive table according to this recipe – with meat, quince, cream and white wine. Liver pate is unusual, nourishing, aromatic and very tasty.
Cook: 1 hour 40 mins
Ingredients
Chicken liver – 450 g
Meat (pork or veal) – 150 g
Quince – 1 pc.
Carrots – 1 pc.
Bulb onions – 3 pcs.
Butter – 50 g + 70 g for filling the pate
Dry white wine – 50 ml
Cream 10% – 200 ml
Vegetable oil – 4-5 tbsp
Salt – 1 teaspoon
Ground nutmeg – 0.5 teaspoon.
Ground black pepper – to taste
White, pink or green pepper (peas) – for decoration
Thyme leaves – for decoration
Directions
Prepare products for liver pate with quince and meat.

Peel the onion, cut into cubes.
Peel the carrots, cut into cubes.
Peel and seed the quince, cut into small pieces.
Heat vegetable oil and butter (50 g) in a frying pan, put onion and fry slightly.
Add carrots to the pan and fry until the color changes.
Add chopped quince to the pan and simmer covered for 15-20 minutes, until the quince is soft.

Cut off films, veins and fat from liver and meat. Cut the meat and liver into medium pieces.
While the quince is stewing, fry the meat and liver in another pan for 5-7 minutes.
Add the fried meat and liver to the pan with quince.
Pour in dry white wine (use good quality wine to make the dish tasty).
Cook for 10 minutes over medium heat, covered.
Pour in the cream and cook for another 20 minutes.
Season with salt to taste, add nutmeg and pepper.
Grind with a blender until a pate.
Add softened butter. Mix well.

Arrange the liver-meat pate with quince in convenient forms.
Melt the butter (70 g) in the microwave and pour the butter over the pate. Sprinkle with peppercorns and thyme leaves on top. Send the liver pate to the refrigerator.
Liver pate with quince is ready. Chilled pate can be served.
Bon Appetit!
Also Like
Comments for "Liver Pate with Quince"