Chicken Liver and Mushroom Pate
by Editorial Staff
Chicken liver pate, vegetables, eggs, and mushrooms are an easy snack to prepare. Liver paté with mushrooms can be served on crackers. This is delicious.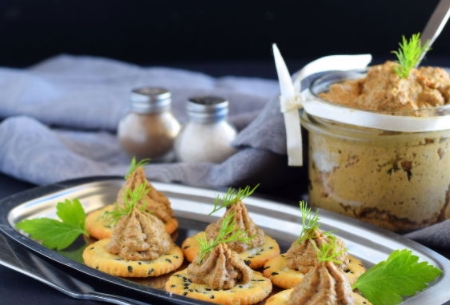 Servings: 4
Ingredients
Chicken liver – 150 g
Champignons – 150 g
Carrots – 70 g
Onions – 70 g
Chicken egg – 1 pc.
Mayonnaise – 1 tbsp
Vegetable oil – 1 tbsp
Salt to taste
Pepper to taste
Crackers – for serving
Directions
Peel the chicken liver of films and fat, wash and pour water (1 l) in a saucepan. Let the water boil, remove the foam formed on the surface of the water. Reduce heat to medium and cook the liver for 15-20 minutes. Then drain the water, cool the boiled chicken liver.

Peel the onion and cut it into small cubes.

Peel the champignons and cut them into small cubes.
Heat vegetable oil in a frying pan and fry the onion in it (2-3 minutes). Then add mushrooms and fry mushrooms and onions for 7-8 minutes, stirring occasionally.
Then transfer the fried mushrooms with onions to a blender and chop lightly.
Grate the carrots on a fine grater.
Hard boil the egg in advance (8-10 minutes), cool in cold water and peel. Grate the boiled egg on a fine grater.
Grate the cooled chicken liver on a fine grater.
Put the carrot, egg and chicken liver in a blender with mushrooms and onions.
Grind all ingredients in a blender until smooth.
Add mayonnaise, salt and pepper. Mix well the liver pate with mayonnaise and spices.
(If you do not want to get a homogeneous paste structure of the snack, you can not punch the ingredients in a blender, but simply mix them and season with mayonnaise.)
Serve the finished chicken liver and mushroom pate on slices of fresh bread or crackers. This snack can be stored in the refrigerator in a hermetically sealed container (for example, in a glass jar) for up to 3 days.
Bon Appetit!
Also Like
Comments for "Chicken Liver and Mushroom Pate"