Solyanka with Cabbage, Mushrooms and Canned Fish
by Editorial Staff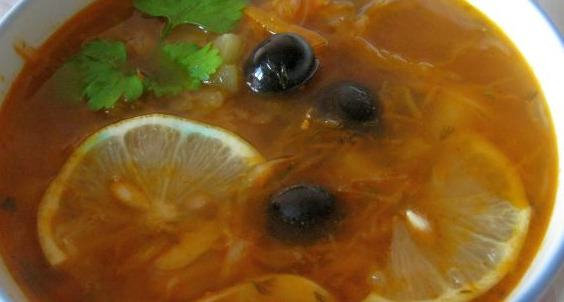 Lean recipe for hodgepodge. Cooking cabbage hodgepodge with mushrooms and fish – posting deliciously and with pleasure.
Cook: 50 minutes
Servings: 8
Ingredients
Canned fish in tomato (sardine, saury, salmon) – 1 can (240 g)
Champignons – 300 g
Sauerkraut – 300 g
Pickled cucumbers – 2 pcs.
Carrots – 1 pc.
Bulb onions – 1-2 pcs.
Potatoes – 2-3 pcs.
Tomato paste – 1-2 tbsp
Lemon – 0.5 pcs.
Vegetable oil – 30 g
Salt to taste
Pepper to taste
Bay leaf – 1-2 pcs.
Water – 2.5 l
Olives – 50 g
Greens – 0.5 bunch
How to cook cabbage hodgepodge with mushrooms:
Directions
Peel the potatoes, wash and cut into cubes.
Wash the mushrooms and cut them into thin slices.
Pour 2.5 liters of water into a saucepan, put on fire. When the water boils, throw the potatoes. Cook for 15-20 minutes.
While the potatoes are boiling, peel the onions, wash, and cut into cubes.
Peel carrots, wash, grate on a coarse grater.
Cut the cucumbers into cubes.
Rinse sauerkraut and squeeze well.
Preheat a frying pan. Pour in vegetable oil. Put the onion and mushrooms in the pan. Simmer over medium heat, stirring occasionally, for 4-5 minutes.
Then add the carrots and simmer for 2-3 minutes.
Add tomato paste.
Mix well.
Add cucumbers. Simmer for 2-3 minutes.

Layout the cabbage.
Add 0.5 cups of vegetable broth from the soup. Simmer over low heat, covered for 5 minutes

.

Open a jar of canned fish in tomato sauce.
Put frying and fish in the soup. Season with salt and pepper, add the bay leaf. Cook covered for 5 minutes.
Open a jar of olives.
Wash and finely chop the herbs. Add olives and herbs to the soup. Remove the mushroom and cabbage hodgepodge from heat. It is advisable to let the hodgepodge brew under the lid for 20 minutes.
Lean cabbage hodgepodge with mushrooms and fish is ready. Put 1-2 lemon slices on a plate.
Enjoy your meal!
Also Like
Comments for "Solyanka with Cabbage, Mushrooms and Canned Fish"