Cabbage Soup with Canned Fish and Tomato Paste
by Editorial Staff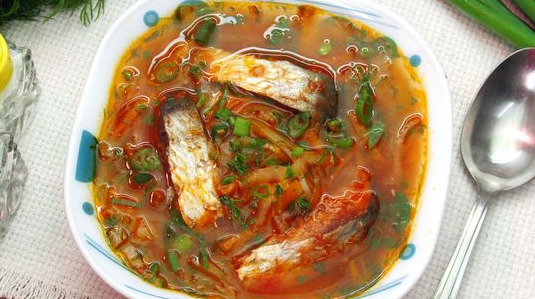 There are many recipes for delicious and satisfying cabbage soup. I propose to cook cabbage soup with canned fish. Any canned fish in tomato sauce is suitable for this. The taste of such cabbage soup turns out to be rich, tomato. Fragrant and tasty cabbage soup with canned fish is prepared very quickly – literally in 30 minutes.
Servings: 6
Ingredients
Canned fish in tomato sauce – 1 can (240 g)
White cabbage – 240 g (1/3 pcs.)
Potatoes – 320 g (2 pcs.)
Carrots – 150 g (1 pc.)
Bulb onions – 100 g (1 pc.)
Tomato paste – 40 g
Green onions – 40 g
Fresh dill – 20 g
Bay leaf – 1 pc.
Vegetable oil – 45 ml (3 tablespoons)
Ground black pepper – to taste
Salt to taste
Water – 1.5 l
Directions
Chop the cabbage into strips.
Peel the potatoes and cut them into small pieces.
Put the potatoes in boiling water.
Next, put the cabbage and bay leaf, add salt.
Cook for 10 minutes.

Peel the onion and cut it into cubes. Peel and rub the carrots on a coarse grater.
Heat vegetable oil in a frying pan and fry vegetables for 7-10 minutes over low heat, until soft and golden.
Add tomato paste to the pan.
Fry for another 1 minute.
Put the vegetables fried with tomato paste in a saucepan.

And cook the cabbage soup for 7-10 minutes.
Cut the fish (if the pieces are large) into small pieces.
Put pieces of fish in the cabbage soup along with the sauce from the jar. Cook cabbage soup with fish over low heat for 2-3 minutes. After that we taste it for salt, if necessary, add salt to taste.
Finely chop the green onions and dill and add to the saucepan.
After adding the herbs, immediately turn off the heat and let the cabbage soup stand under the lid for 5-10 minutes.
Enjoy your meal!
Also Like
Comments for "Cabbage Soup with Canned Fish and Tomato Paste"