Canned Fish Soup with Bulgur and Vegetables
by Editorial Staff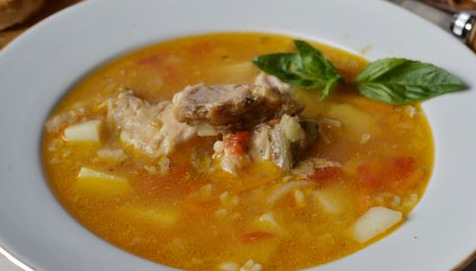 A simple soup made from canned fish with vegetables and bulgur turns out to be hearty and tasty. It will take no more than one hour to cook. And even a novice housewife will not have any difficulties in cooking.
Cook: 1 hour
Servings: 4
Ingredients
Canned fish in oil – 1 can (250 g)
Bulgur – 50 g
Potatoes – 3 small
Tomato – 1 pc.
Carrots – 1 pc.
Bulb onions – 1 pc.
Vegetable oil – 2 tbsp
Salt – 0.5 teaspoon
Bay leaf – 1 pc.
Directions
Cut the potatoes into small pieces.
Pour 1L of water into a saucepan, bring to a boil and add the potatoes. Cook for 5 minutes.
Rinse the bulgur.
Add bulgur to the pot. Simmer at a low boil for 10-15 minutes.
Cut the blood into thin strips, the onion into half rings.
Heat 1 tablespoon in a skillet. a spoon of vegetable oil and lay out the chopped onions and carrots.
Fry over medium heat for 5-7 minutes.
Cut the tomato into medium cubes.
Add the tomatoes to the skillet. Toss with onions and carrots.
Simmer over low heat for 10 minutes.

Transfer the stewed vegetables to a saucepan, bring to a boil, and cook for another 5 minutes.
Then add the canned fish along with the oil and continue cooking for another 5 minutes. At the end of cooking, add a small bay leaf to the canned soup.

Pour the soup with canned fish, bulgur, and vegetables into bowls and serve.
Enjoy your meal!
Also Like
Comments for "Canned Fish Soup with Bulgur and Vegetables"