Canned Fish Soup with Peas
by Editorial Staff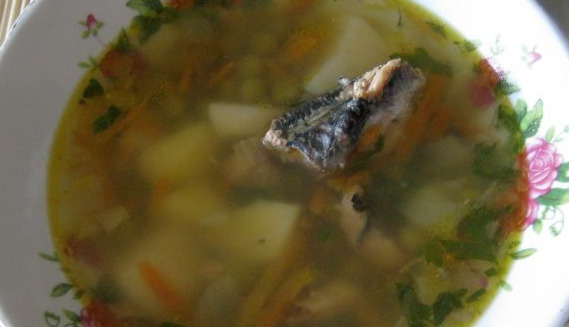 Universal soup for lunch. Cheap and cheerful, and most importantly fast. And the soup with canned fish is delicious, original, and looks great on a dinner plate.
Cook: 20 minutes
Servings: 6
Ingredients
Canned fish in its own juice – 1 can (240 g)
Canned peas – 200 g
Potatoes – 2-3 pcs.
Carrots – 1 pc.
Bulb onions – 1 pc.
Greens to taste
Vegetable oil – 3 tbsp
of butter – 3 tbsp
Bay leaf – 1 pc.
Black pepper – to taste
Salt to taste
How to make canned fish soup:
Directions
Peel, wash, and dice the potatoes.
Boil 2.5 liters of water. Add potatoes. Cook for 10 minutes.
Peel and wash carrots and onions. Finely dice the onion. Grate carrots on a coarse grater.
Preheat a frying pan. Pour vegetable (butter) oil. Place prepared carrots and onions. Fry, stirring occasionally, over medium heat for 2-4 minutes.
Open a jar of canned fish.
Open a jar of canned peas.
Put canned fish (along with liquid), canned peas (you also need to add 3-4 tablespoons of liquid from a jar of peas), and fry in a saucepan for almost finished potatoes. Season with salt and pepper to taste. Add bay leaf. You can add peppercorns.
When the soup comes to a boil, reduce the heat and cook the soup with canned fish and peas until the potatoes are cooked for about 5-7 minutes.
Enjoy your meal!
Also Like
Comments for "Canned Fish Soup with Peas"