Canned Fish Soup with Spinach
by Editorial Staff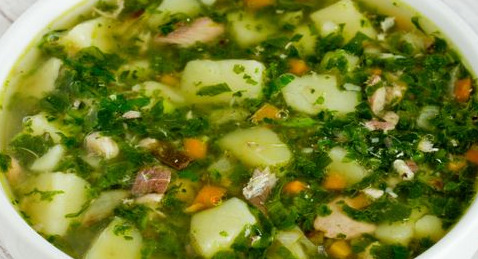 A simple soup made from canned fish will be transformed in an instant by adding one "secret" ingredient to it – spinach. It is the spinach that will give the soup a beautiful emerald color, add a pleasant touch to the taste and make the first course not only tasty but also healthy!
Cook: 30 minutes
Servings: 5
Ingredients
Canned sardine (saury) in oil – 230 g
Spinach (fresh or frozen) – 120 g
Potatoes – 300 g
Carrots – 1 pc.
Bulb onions – 1 pc.
Sunflower oil – 30 ml
Bay leaf – 1 pc.
Green onion – several feathers
Fresh parsley – 3-4 sprigs
Salt to taste
Ground black pepper – to taste
Water – 1.3 l
Directions
Peel and dice the potatoes.
Transfer the potatoes to a saucepan, cover with water and bring to a boil. Reduce heat and simmer for 15-20 minutes, until soft.
Peel the onions. Cut the peeled carrots and onions into small cubes.
Heat the sunflower oil in a skillet and sauté the onions and carrots over medium heat, stirring occasionally, for about 4 minutes.
Drain the oil from the canned fish, slightly mash the fish with a fork, but not into gruel, but so that whole pieces remain.
When the potatoes are done, add salt.
Then lay out the fish.

And add the spinach immediately. I used frozen spinach, if using fresh spinach, rinse, and chop finely.
After the spinach, transfer the vegetable frying to the soup.

Bring the soup to a boil and cook for about 5 minutes.
Rinse green onions and parsley and chop.
Transfer the herbs to the finished soup, add the bay leaf, and add black pepper to taste.
Enjoy your meal!
Also Like
Comments for "Canned Fish Soup with Spinach"