Fish Baked with Vegetables and Canned Beans
by Editorial Staff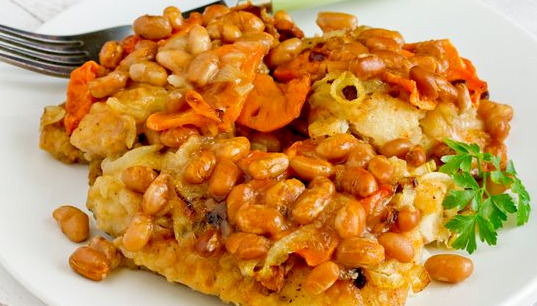 Hake fillet baked in the oven with vegetables and canned beans is an original and satisfying dish. Beans and fish go well with each other, and fried onions and carrots successfully emphasize their taste. You can also bake low-bone fish cut into pieces in a similar way. But the fillet is still better – the fish will turn out to be very tender, melting in the mouth, and there will be no need to be distracted by removing the bones.
Cook: 30 minutes
Servings: 4
Ingredients
Hake fillet – 600 g
Canned beans in tomato sauce (white) – 350 g
Onions (large) – 150 g (1 pc.)
Carrots (large) – 160 g (1 pc.)
Flour – 3 tbsp
Ground paprika – 1 teaspoon
Salt to taste
Ground black pepper – to taste
Sunflower oil (for frying) – 70 ml
Directions
Cut the fillet of hake or other white fish (cod, flounder, pollock) into not too small pieces.

Combine flour, salt, black pepper, and ground paprika in a deep bowl.
Stir dry ingredients.
Roll the fish fillet pieces into the mixture.
Heat 2 tablespoons in a skillet. tablespoons of sunflower oil and lay out the slices of breaded fish.
Fry the hake fillets on both sides over high heat until beautifully golden brown.
Put the fried fish in a baking dish in one layer (I have a ceramic dish measuring 19×22 cm).
Peel and rinse the onions and carrots. Cut the onion into half rings, and the carrots into semicircles.
Heat the remaining oil in a skillet. Fry the onions and carrots for 5 minutes over high heat.
Place the fried vegetables on top of the fish.
Spread the canned beans in the tomato sauce gently over the top.
Bake the fish and beans in an oven preheated to 180 degrees for 10 minutes.

Fish baked with vegetables and canned beans is ready. Serve hot fish to the table, garnish with vegetables, pickles, or mashed potatoes.
Enjoy your meal!
Also Like
Comments for "Fish Baked with Vegetables and Canned Beans"