Chicken Liver Stewed with Canned Beans and Vegetables
by Editorial Staff
If you want to quickly prepare a hearty and healthy lunch or dinner for your family from available products, then stew chicken liver along with beans, onions, and carrots. Delicate chicken liver "feels" great in a company with canned beans, and vegetables, and tomato sauce add aroma and enrich the taste of the dish. Cook it too, you will not regret it!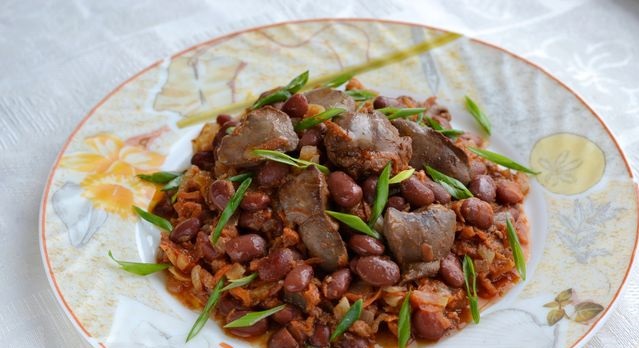 Cook: 40 mins
Servings: 5
Ingredients
Chicken liver – 500 g
Canned beans in tomato sauce – 425 ml (1 can)
Onions – 250 g (2 pcs.)
Carrots – 150 g (1 pc.)
Tomato paste – 1-2 tbsp
Bay leaf – 2-3 pcs.
Ground black pepper – 1/4 teaspoon (to taste)
Salt to taste
Vegetable oil – 2 tbsp
Green onions (for serving) – 2 pcs.
Directions
Peel and wash the onion, cut it into small cubes.
Peel and wash the carrots. Rub the carrots on a coarse grater.
Heat vegetable oil in a frying pan. Spread the onion and fry over medium heat until golden brown, 4-5 minutes.
Add carrots to the onion, fry everything together for 4-5 minutes.
We wash the chicken liver, dry it, clean it of films and streaks, cut it into small pieces.
Put the liver in a pan with onions and carrots.

We magnify the fire and fry the contents of the pan, stirring constantly, until the liver changes color.
Add canned beans along with tomato sauce.

Add tomato paste.
There – bay leaves and ground black pepper. We mix everything.

Cover the pan with a lid, reduce heat to a minimum and simmer for 10-12 minutes. We taste and add salt if necessary. Chicken liver stewed with canned beans and vegetables is ready. Turn off the heat, leave it under the lid to brew for 10 minutes.
We layout the dish on plates, serve with fresh herbs if desired.
Enjoy your meal!
Also Like
Comments for "Chicken Liver Stewed with Canned Beans and Vegetables"