Cabbage Stewed with Minced Meat and Canned Beans
by Editorial Staff
Only cabbage stewed with minced meat and canned beans can be tastier than stewed cabbage.) Thanks to the minced pork and legumes, the dish becomes more satisfying and aromatic. Plus, minced meat and canned beans speed up the cooking process.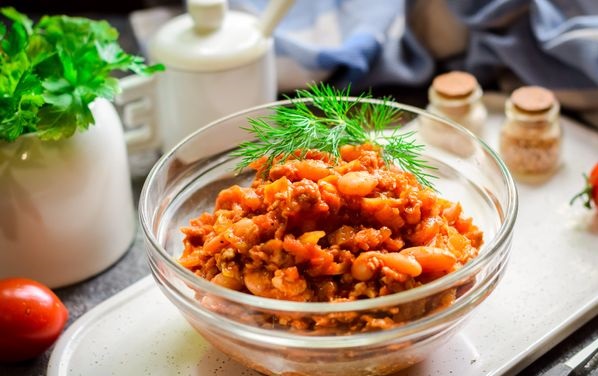 Cook: 1 hour 5 mins
Servings: 4
Ingredients
Young white cabbage – 400 g
Minced pork – 300 g
Canned white beans – 150 g
Carrots – 1 pc.
Bulb onions – 1 pc.
Tomato paste – 2 tbsp
Water (warm) – 300 ml
Salt to taste
Ground black pepper – to taste
Vegetable oil – 3 tbsp
Directions
Peel, wash, and dry carrots and onions. Cut the onion into small cubes, grate the carrots on a medium grater.
Heat the frying pan, add oil, and put carrots and onions. Stir the vegetables for 4 minutes, stirring occasionally to prevent them from burning.

Add minced pork to vegetables.

With constant stirring, fry the contents of the pan for 7-8 minutes (constantly crush the minced meat with a spatula to make small pieces).
Cut the cabbage into strips.
Transfer the cabbage to a skillet with minced meat and vegetables. Mix everything. Fry for another 7-8 minutes, remembering to stir periodically so that the vegetables and minced meat do not burn.

Dissolve the tomato paste in warm water, mix well.
Salt the contents of the pan and season with pepper.
Pour the diluted tomato paste into the pan.

Add canned beans.
Stir everything, simmer covered for 45-50 minutes. At the end of cooking add salt or pepper if necessary.

Arrange the cabbage stewed with minced meat and canned beans on plates and serve. Also, the dish can be served with mashed potatoes, buckwheat porridge, or boiled rice.
Be sure to take note of the recipe, I hope you enjoy the result.
Bon Appetit!
Also Like
Comments for "Cabbage Stewed with Minced Meat and Canned Beans"