Vegetable Stew with Minced Meat and Beans (in the Oven)
by Editorial Staff
Vegetable ragout with ground beef can be made at any time of the year. A hearty and at the same time uncomplicated second dish that can feed the whole family. You will spend very little effort and time on cooking.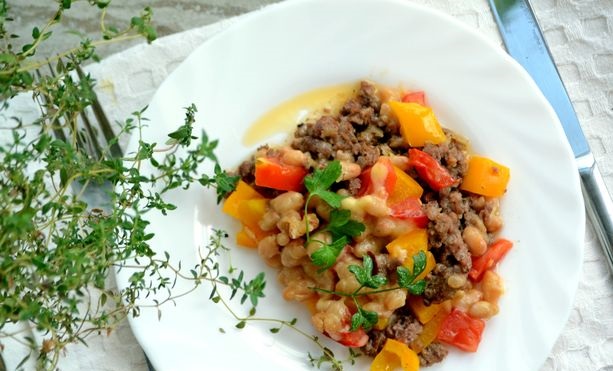 Cook: 1 hour 10 minutes
Servings: 4
Ingredients
Minced meat (I have beef) – 400 g
Canned beans – 300 g
Cheese – 100 g
Bulb onions – 1 pc.
Bulgarian pepper – 1 pc.
Tomatoes – 2 pcs.
Sunflower oil – 3 tbsp
Salt – 1/2 teaspoon
Paprika – to taste
Pepper mix to taste
Fresh thyme (for serving) – to taste
Fresh parsley (for serving) – to taste
Directions
Prepare your ingredients. You can use any canned beans – red or white, in white or tomato sauce. You don't need to rinse beans in white sauce, just put them on a sieve to glass the liquid. I recommend taking minced beef, it goes well with the rest of the ingredients and is not as fatty as pork.
Cut the peeled onions into small cubes and fry in vegetable oil until transparent.

Add the ground beef to the onion and fry until gray and evaporated. about 10-12 minutes. In the process of frying, break the minced meat with a spatula so that there are no lumps.

Add salt and spices at the end of frying. Set aside from the stove.
Turn on the oven to heat up to 180 degrees. Transfer the sautéed minced meat with onions to a baking dish.

Cut the tomatoes and peeled bell peppers into small pieces.

Spread the chopped bell pepper evenly on top of the minced meat.
The next layer is chopped tomatoes. Salt the contents of the form a little.
Place beans on top. Put the beans in tomato sauce along with the liquid, evenly distributing it over the minced meat and vegetables. Place the dish in the oven for 35-40 minutes.

Remove the cooked stew from the oven. Grate cheese on top on a fine grater. Bake the cheese stew for another 5 minutes. You can bake in the "Grill" mode if your oven has this function.
The vegetable stew with beans and ground beef is ready.

Cool slightly before serving.
Divide the stew into portioned bowls, trying to grab each layer, and garnish with fresh parsley and thyme. Parsley goes well with vegetables, and thyme goes well with beef.
Delicious, satisfying, and healthy – a great combination for a dinner!
Enjoy your meal!
Also Like
Comments for "Vegetable Stew with Minced Meat and Beans (in the Oven)"