Green Beans Stewed with Canned Tomatoes
by Editorial Staff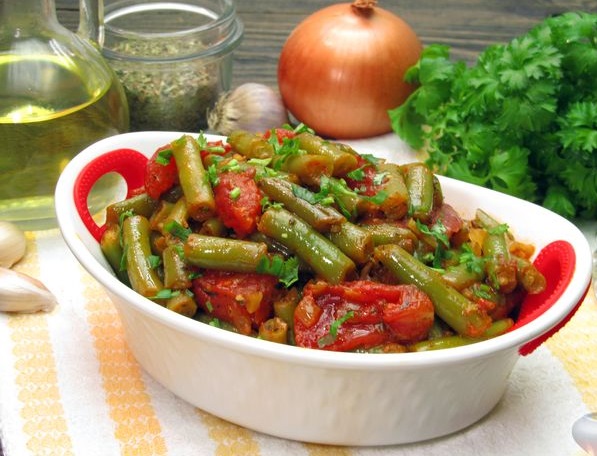 Green beans according to this recipe are stewed with tomatoes in their own juice, with the addition of tomato paste, garlic, and Italian herbs. Thanks to tomatoes, beans acquire a bright, rich taste and wonderful aroma. This versatile and quick-to-prepare dish can be served on its own or as a side dish.
Ingredients
Frozen green beans – 400 g
Tomatoes in their own juice (peeled) – 350-400 g
Tomato paste – 30 g
Bulb onions – 100 g (1 pc.)
Garlic – 2-3 cloves
Dried Italian herbs – 1.5 teaspoon
Salt to taste
Sugar – 0.5 teaspoon (to taste)
Ground black pepper – to taste
Vegetable oil – 30 ml (2 tablespoons)
Fresh parsley (for serving) – 7 g (1-2 sprigs)
Directions
Essential products. If canned tomatoes with skin, peel them.

Peel the onion and garlic, rinse. Cut the onion into small cubes, chop the garlic with a knife.
Heat vegetable oil in a frying pan and fry the onion for about 7 minutes, until golden brown.
Add garlic to the pan to the onion, add a pinch of salt and sugar.
Fry the onion and garlic for another 1-2 minutes.
Put frozen green beans in a frying pan. Stir and fry the beans for 2-3 minutes, letting the moisture evaporate.
Then add the tomato paste.
Mix everything and fry for another 2 minutes.
Remove the tomatoes from the juice and cut into medium slices.
Add chopped tomatoes with juice to the beans.
Mix everything, bring to a boil. Then add the remaining sugar, Italian herbs, black pepper and salt to taste.
Mix again and simmer over low heat, covered for 10-15 minutes. If there is not enough tomato juice, you can add 30-40 ml of water.
Green beans stewed with canned tomatoes are ready. Sprinkle the finished dish with chopped parsley.
Enjoy your meal!
Also Like
Comments for "Green Beans Stewed with Canned Tomatoes"