Vegetable Stew with Green Beans
by Editorial Staff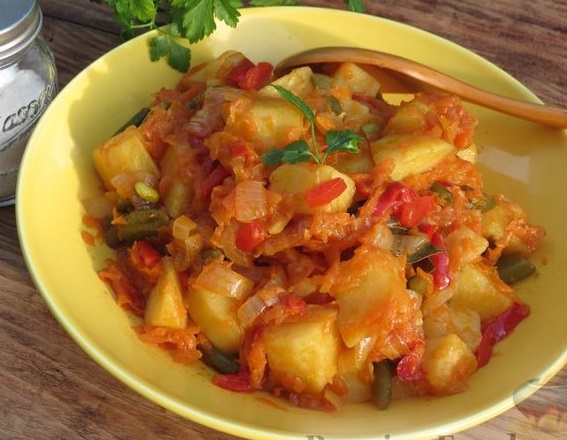 Treat yourself to an abundance of vegetables in the winter cold.) Mix the fried onions, carrots, and potatoes with frozen bell peppers and green beans, season with tomato sauce, and simmer until tender. When combined, vegetables create a dish that is bright in color and taste. This vegetable stew can be made all year round using fresh peppers and green beans in season.
Ingredients
Potatoes – 500 g (3 pcs.)
Green beans (fresh or frozen) – 70 g
Sweet pepper (fresh or frozen) – 70 g
Onions – 210 g (1 large)
Carrots – 200 g (1 large)
Tomato sauce – 2 tbsp
Bay leaf – 1 pc.
Black peppercorns – 5-6 pcs.
Ground black pepper – a pinch (to taste)
Salt – 0.5 teaspoon (to taste)
Vegetable oil – 45 ml (3 tablespoons)
Directions
We prepare the necessary products. Frozen bell peppers and green beans do not need to be defrosted beforehand.

Peel and cut the fresh pepper into small cubes or strips.
Cut off the tails on both sides of fresh green beans, cut the beans into pieces.
Peel the onion, rinse and cut into quarters.
In a frying pan, heat 30 ml (2 tablespoons) of vegetable oil, spread the onion and sauté for 5-7 minutes, until golden brown.
Rub the peeled carrots on a coarse grater.
Add carrots to the onion and fry for another 5-7 minutes.
Peel the potatoes, rinse and cut into small cubes with a side of 2 cm, dry.
Put the fried onions with carrots in a saucepan with a thick bottom.
Add the remaining vegetable oil to the freed pan and fry the potatoes in it for 6 minutes, until slightly golden brown.
We shift the potatoes to the onions and carrots.
We also send sweet peppers, green beans, tomato sauce, bay leaves, salt, peppercorns and ground pepper there. Stir, pour in 3-4 tablespoon. tablespoons (45-60 ml) of hot water, bring to a boil, reduce heat to a minimum, cover and simmer for 15 minutes, until the potatoes are ready (depending on their type and size of slicing).

We serve the vegetable stew with green beans hot as a full-fledged lean dish, or as a side dish for meat.
Enjoy your meal!
Also Like
Comments for "Vegetable Stew with Green Beans"