Chicken Stewed with Vegetables, Peas and Green Beans
by Editorial Staff
Chicken stew with potatoes, celery, green peas, and bean pods, seasoned with spices and herbs is a great lunch or dinner for the whole family or a main dish on a festive table.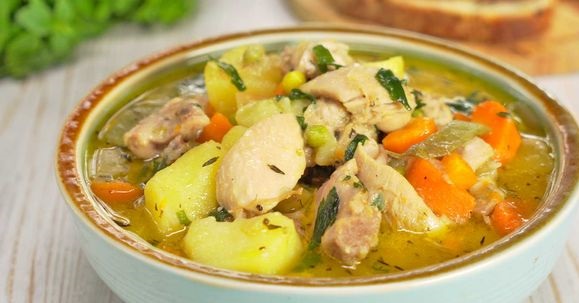 Servings: 6
Cook: 55 mins
Ingredients
Chicken thighs without bones and skin – 900 g
Potatoes – 500 g
Carrots – 350 g
Onions – 250 g
Celery stalks – 3 pcs.
Frozen green peas – 100 g
Frozen green beans – 100 g
Vegetable oil – 2 tbsp
Butter – 50 g
Flour – 2 tbsp
Garlic – 4 cloves
Dried Italian herbs – 1 teaspoon
Dried thyme – 3 branches
Bay leaf – 1 pc.
Salt – 1.5 teaspoon
Ground black pepper – 1/2 teaspoon
Chicken broth or water – 1 l
Fresh parsley – 15 g
Directions
Peel the onion and cut it into quarters. Peel and squeeze the garlic through a press.
Cut the celery stalks into small pieces.
Peel the carrots and cut them into semicircles.
Peel and dice the potatoes.
Cut each boneless and skinless chicken thigh into 4 pieces.
Heat vegetable oil in a saucepan. Fry the chicken in two equal portions over high heat for 3-4 minutes. Transfer the chicken to a bowl.

Put the onions, celery, and carrots in the pan in which the chicken was fried. Stir and sauté over medium heat for 3-4 minutes.
Add butter and wheat flour to the fried vegetables. Stir. Add potatoes.

Then return the fried chicken to the pot. Add garlic, black pepper, salt, Italian herbs, and bay leaves to the chicken and vegetables.
Put the green peas and bean pods there. Pour in chicken broth or water. Stir.
Add thyme sprigs.
Cover the saucepan and simmer the chicken with vegetables, peas, and green beans over low heat for 30 minutes. After a while, remove the thyme and bay leaf from the pan.

Turn off the fire. Finely chop the parsley and sprinkle with the chicken with vegetables, peas, and green beans. Stir.
Bon Appetit!
Also Like
Comments for "Chicken Stewed with Vegetables, Peas and Green Beans"