Fish Baked with Vegetables
by Editorial Staff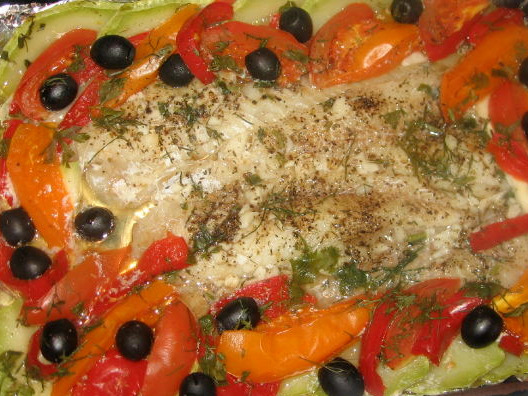 The fish looks beautifully baked, it is prepared simply and quickly. And also very tasty!
Ingredients
Fillet of white fish (I have pollock) – 800 g
Garlic – 2 cloves
Vegetable oil (olive oil in the recipe, I have a mix of olive and sunflower oil) – 3 tbsp
Oregano (oregano) – 1 teaspoon
Sweet red pepper (large) – 0.5 pcs.
Tomatoes – 2 pcs.
Zucchini or zucchini – 1 pc.
Pitted canned olives – 3 tbsp
Parsley and dill – half a bunch
Lemon juice – 2 tbsp
Salt
Ground black pepper
How to cook fish baked with vegetables:
Directions
Wash the fish fillets and pat dry with a paper towel.
Place the fillets on a baking sheet lined with foil. Pour the garlic-oil mixture over the fish and leave for 15 minutes. Then add a little salt, pepper, and sprinkle with dried oregano

.

Cut sweet peppers into strips, cut small zucchini or zucchini into slices. I cut mine into halves of circles. Wash the tomatoes, dry them, cut out the bases of the stalks and cut the pulp into slices. Place the olives on a sieve and drain. Wash greens and chop finely.
Put bell peppers, tomatoes, and zucchini on a baking sheet around the fish. Put the olives on the vegetables. Sprinkle the fish with lemon juice and sprinkle with herbs. Cover with a sheet of foil, fasten the edges, and put the baking sheet in an oven preheated to 200 degrees for 25 minutes.

Tear off excess foil and serve the fish baked with vegetables on the table. Baked fish prepared according to the recipe from the magazine "Liza. Bon appetit!"
Enjoy your meal!
Also Like
Comments for "Fish Baked with Vegetables"