Pies with Cabbage and Canned Fish
by Editorial Staff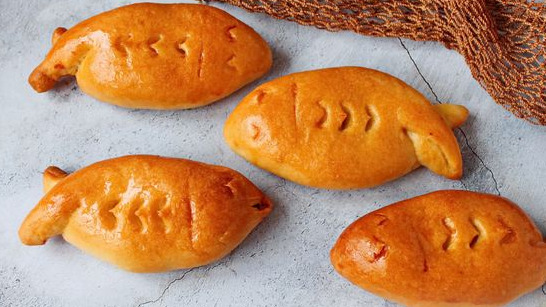 I have a long and strong love for cabbage pies, but I cooked pies with cabbage and canned fish for the first time, and ate, respectively, too. What can I say? They are very tasty! They are even tastier than I imagined!
Ingredients
For the test:
Wheat flour – 1 kg + for working with dough
Warm water – 500 ml
Sugar – 2 tbsp
Salt – 1 teaspoon
Vegetable oil – 2 tbsp + for working with dough
Fast-acting dry yeast – 11 g

For filling:

White cabbage – 500 g
Carrots – 1 pc.
Bulb onions – 2 pcs.
Canned saury in its own juice – 250 g
Vegetable oil – 2 tbsp
Seasoning for fish – to taste
Ground black pepper – to taste
Salt to taste

For frying pies:

Vegetable oil
Directions
Prepare the dough. Mix flour, yeast, sugar, and salt in a deep bowl.
Add water and vegetable oil.
Knead the dough, cover with cling film, put in a warm place to rise for 1 hour.
When the dough rises, knead it and leave for another 1 hour to rise again.
Meanwhile, prepare the filling. Peel the onion, cut into cubes and fry in a frying pan preheated with vegetable oil.
Add peeled and coarsely grated carrots and finely chopped cabbage to the fried onions. Simmer for 20-30 minutes.
Add canned saury, mashed with a fork, seasoning for fish, black pepper, and salt to the stewed cabbage. Stir and cool.
When the dough rises again, remove it from the bowl onto a greased or floured table, knead and divide into equal pieces the size of a large chicken egg, roll into balls.
Mash the dough balls with your hands into flat cakes spread the filling on top and mold the pies.
Fry the pies in a frying pan preheated with vegetable oil until a beautiful golden-brown crust on both sides.
Enjoy your meal!
Also Like
Comments for "Pies with Cabbage and Canned Fish"