Pies with Cabbage "Cigars"
by Editorial Staff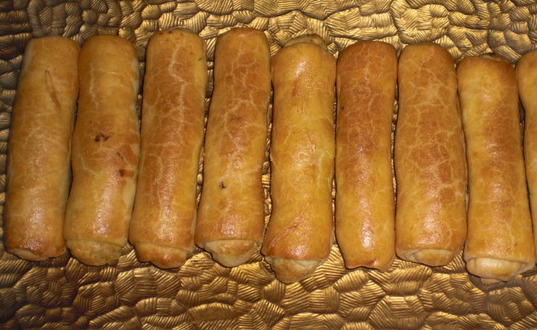 Wonderful pies made of thin, crispy dough, very quick to cook and eat.
Servings: 6
Ingredients
Wheat flour / Flour (about) – 2 stack.
Vegetable oil – 0.5 stack.
Water – 0.5 stack.
Salt
White cabbage / Cabbage (fresh or sauerkraut) – 1 fork
Carrots – 1 pc
Bulb onion – 1 piece
Directions
Knead soft and elastic dough from flour, oil, water, and salt, divide into 12-14 pieces
We roll out each piece to almost a transparent state and put the filling on the edge – for me, it's shredded cabbage with onions and carrots stewed in a pan, I added lemon juice for sourness, vinegar can be used.
We carefully wrap it up, forming our "cigar", put it on a baking sheet with the seam down, the pie turns out to be about 10 * 3 cm in size.
Lubricate with an egg and bake at 200 degrees for 20-30 minutes, until golden brown
Enjoy your meal!
Also Like
Comments for "Pies with Cabbage "Cigars""