Khrushchev Dough Pies with Cabbage and Eggs
by Editorial Staff
They say that Khrushchev loved pies made from this dough. Products made from "Khrushchev" dough are soft, fluffy, do not stale for a long time. This yeast dough is as good in the refrigerator as ordinary dough in a warm place. But its main advantage is that it can be stored in the refrigerator for about a month and used as needed. This dough is also called "ageless".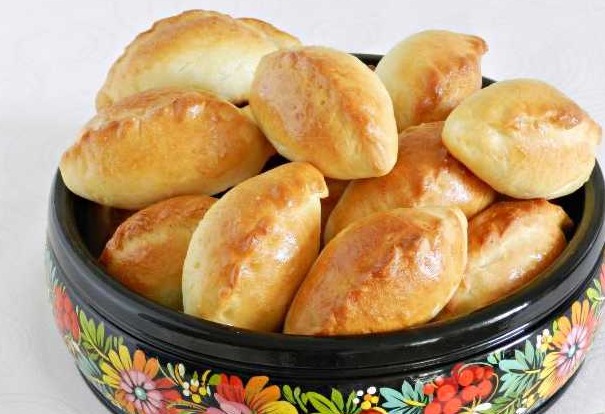 Ingredients
For the dough:
Dry fast-acting yeast – 2 teaspoon
Salt – 0.5 teaspoon
Sugar – 2 tbsp
Milk – 1 glass
Butter – 200 g
Flour – 3.5 cups
For filling:
White cabbage – 400 g
Bulb onions – 1 pc.
Eggs – 2 pcs.
Vegetable oil – for frying
Salt to taste
Ground black pepper – to taste
Egg for greasing pies – 1 pc.
Vegetable oil – for greasing the baking sheet
Directions
Mix dry yeast with flour.
Dissolve sugar and salt in warm milk.
Add flour gradually.
Add softened butter.
Knead a soft elastic dough. First, knead the dough in a bowl, then transfer to a cutting board or table and knead the dough thoroughly with your hands.
The dough should be smooth, elastic and not stick to the table and hands.
Roll the dough into a lump, place in a bowl or plastic bag and refrigerate for approach.
The dough is ready to use in 4 hours, but you can leave it in the refrigerator for a longer time.
One hour before making pies from the "Khrushchev" dough, it must be taken out of the refrigerator and kept at room temperature.
Prepare products for the filling.
Chop the cabbage.
Peel the onion, cut into cubes and fry in vegetable oil. Season with salt and pepper.
Put the cabbage in the pan.
Fry the cabbage with the onions, then reduce the heat to low, cover the pan and simmer the cabbage until soft, about 15 minutes.

Boil the eggs for 8-9 minutes, peel and chop.
Mix eggs with stewed cabbage. If necessary, salt and pepper the filling to your liking.
Transfer the dough to a table or cutting board.
Separate a small part of the dough, keep the rest under a towel. Divide the dough into portions. Flatten the pieces with your hands into cakes, put the filling and mold the pies.
The patties can be any shape you like.

Put the pies on a greased baking sheet. Beat the egg and grease the pies. Put a baking sheet in an oven heated to 180 degrees and bake pies from the "Khrushchev" dough for 20 minutes, until golden brown. Do not open the oven during baking.
Put the finished pies with cabbage and eggs on the wire rack.
Pies with cabbage and eggs made from "Khrushchev" dough are ready. Bon Appetit.
Also Like
Comments for "Khrushchev Dough Pies with Cabbage and Eggs"