Pies with Apples, from Curd Dough
by Editorial Staff
Here's a recipe for our favorite cottage cheese dough pies with apple filling. They turn out to be incredibly tender and tasty. When I start to cook them, children already ask when I will cook more.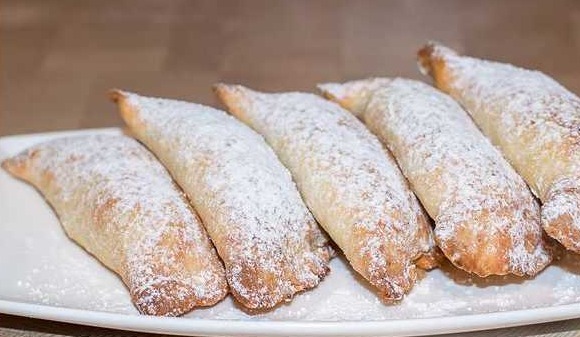 Ingredients
For the dough:
Cottage cheese – 140 g
Butter – 120 g
Flour – 200 g
Baking powder – 2 g (0.5 teaspoon)
Salt – 1 g (1/3 teaspoon)
For filling:
Apples – 600 g
Lemon or lime juice – 2 teaspoon.
Sugar – 50 g (2 tablespoon. L.)
Butter – 30 g
For sprinkling the pies:
Powdered sugar – to taste
Directions
Prepare food for the test. Send butter to the freezer for half an hour.
Mix together flour, baking powder, salt.
Here, quickly grate butter on a coarse grater, along the way, roll it in flour. Mix everything to make a crumb.

Send cottage cheese to the rest of the dough ingredients, mix and quickly mold everything into a lump.
(If the dough is not going to lump, you can add 1 tablespoon of cold water or yolk.)
Wrap the curd dough for pies in a film and put in the refrigerator for 1.5-2 hours.
Cooking the filling. Wash the apples, core them and chop finely. Add a couple of teaspoons of lemon or lime juice.
Melt 30 g of butter in a frying pan.
Pour sugar here.
Stew the apples until they become soft and the excess liquid evaporates.
Preheat the oven to 200 ° C.

Divide the curd dough into 15 parts. Roll out each part of the dough (no thinner than 3 mm), put the filling in the middle and form pies.
Sculpt pies from curd dough quickly. Or put the dough in the refrigerator and take out in parts.
Send the apple pies to the oven for about 25 minutes, they should brown slightly.

Sprinkle the cooled apple pies with icing sugar.
Bon Appetit!
Also Like
Comments for "Pies with Apples, from Curd Dough"