Apple Curd Dough Strudel
by Editorial Staff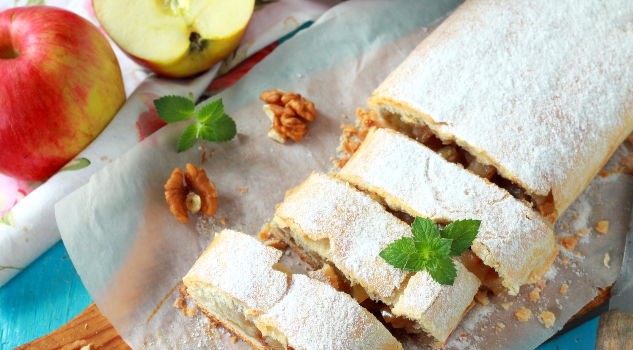 Curd dough for strudel rolls out easily, after baking it is very tasty and crispy. You can take any filling for strudel, according to the season. We have an apple strudel with nuts today.
Cook:
Servings:
Ingredients
For the dough:
Soft or pasty cottage cheese – 180 g
Butter – 150 g
Sugar – 50 g
Wheat flour – 2-2.5 cups
Baking powder – 0.5 teaspoon.
For filling:
Apples – 800 g
Walnuts – 80 g
Sugar – 100 g
Butter – 50 g
Additionally:
Egg – 1 pc.
Powdered sugar – for decoration
Directions
Combine in a bowl and stir until smooth the soft butter, cottage cheese and sugar.
Stir in flour and baking powder.
You should get a soft, homogeneous dough that does not stick to your hands.
Divide the dough into 2 parts, wrap in plastic wrap and refrigerate for several hours or overnight.
Prepare the filling: apples cut into cubes.
Simmer apples in butter under the lid, stirring occasionally.
Add sugar and chopped nuts to the apples.

Roll out the dough on the table, dusting with flour, to a thickness of a couple of millimetres.
Spread half of the filling over the edge of the dough.

Fold the edges first on the short side of the dough, then on the long side.
Roll up the roll.
Fasten the edges of the roll.
Flip the roll seam down and press down slightly. Wrap the second roll in the same way.
Transfer both rolls to a baking sheet lined with parchment. Brush with beaten egg.
Bakeapple and nut strudels at 180 ° C for 25-30 minutes, until golden brown.
Cool the finished strudels on a wire rack and sprinkle with icing sugar.
The apple strudel from the curd dough is ready. Bon Appetit!
Also Like
Comments for "Apple Curd Dough Strudel"