Apricot Curd Dough Strudel
by Editorial Staff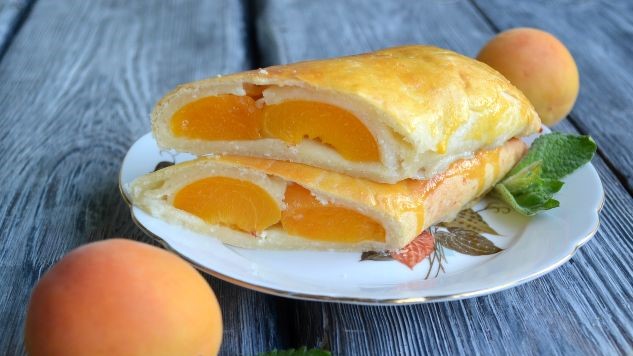 This curd dough roll can be made with any fruits and berries, but with apricots, it acquires a slight sourness and an incredible aroma of apricot baked goods.
Ingredients
Apricots – 200 g
Cottage cheese – 100 g
Butter – 50 g + for greasing the baking sheet
Flour – 100 g
Sugar – 40 g
Egg (for greasing the cake) – 1 pc.
Starch – 1 teaspoon
Cinnamon (optional)
Powdered sugar (optional)
Directions
Prepare all ingredients.

Mash cottage cheese and soft butter with 2 tablespoons of sugar.
Slowly adding flour, knead soft curd dough. Cover with plastic wrap or a lid and refrigerate for 2 hours.
Divide the chilled dough into 2 pieces (for 2 strudels).
Wash, dry and cut the apricots into halves, removing the seeds.
Roll out the dough on a floured table into a thin layer, about 3 mm thick.
Place apricot halves on one edge of the dough, sprinkle with starch and sugar.

Grease the free space of the cake with the egg white, first separating it from the yolk, and sprinkle with the remaining sugar.
Roll the apricot dough into a roll.
Place the apricot curd rolls on a greased baking sheet. Grease the rolls with an egg or yolk on top. Sprinkle with cinnamon if desired.
Bake the apricot curd dough rolls in a preheated oven at 180 degrees for about 25 minutes.

Curd rolls with apricots are ready. When they're cool, cut them into pieces. You can sprinkle with icing sugar on top.
Bon Appetit!
Also Like
Comments for "Apricot Curd Dough Strudel"