Curd Strudel with Apples
by Editorial Staff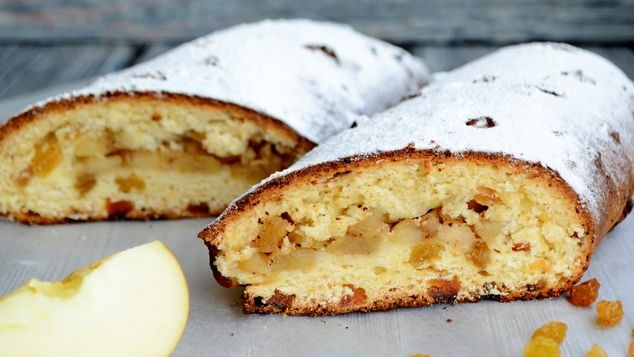 Very rich, sweet yeast dough saturated with dried fruits and candied fruits and juicy, aromatic apple filling. The curd roll cake with apples really tastes like a Christmas stollen and is formed using the apple strudel technology.
Cook:2h
Servings: 8
Ingredients
For the dough
Cottage cheese – 120 g
Butter (room temperature) – 80 g
Egg – 1 pc.
Sugar – 100 g
Fresh yeast – 20 g
Wheat flour – 260 g
Salt – 1/3 teaspoon
Raisins – 130 g
Candied fruits – 60 g
For filling
Sweet and sour apples – 350 g
Sugar – 20 g
Butter – 10 g
Ground cinnamon – 1/2 teaspoon
Directions
Prepare the ingredients for the curd dough.

Combine cottage cheese softened butter, egg, sugar and salt in a bowl. Stir with a fork, you can use a mixer or food processor.
Dissolve the yeast in the resulting mixture.
Add flour little by little and knead the yeast dough.
Finish kneading the dough on the table. The dough is quite soft but does not stick to the table and hands.
Cover the yeast curd dough with a towel and leave in a warm place for 30-40 minutes.
Pound the matched dough. Mix raisins (or other dried fruits, cut into pieces) and candied fruits into the dough.

Prepare juicy sweet and sour apples for the filling. Peel and core them and cut into small cubes.
Simmer apples with sugar and cinnamon in butter until soft.
Roll out the dough into a rectangular layer 4-5 mm thick and about 30×50 cm in size.
Transfer the apples to a plate and cool. Then line the apple filling along the long edge of the dough sheet.

Roll up.
Transfer the apple roll to the baking sheet, seam side down. It is better to cover the baking sheet with parchment so that the roll can be easily removed after baking.
Leave the yeast dough roll for 20-25 minutes for proofing in a warm place before baking.
Bake the yeast dough roll cottage cheese in an oven preheated to 200 degrees for 20-25 minutes.
Brush cooled cottage cheese roll with apples with butter and generously sprinkle with powdered sugar.
Dense, aromatic dough around a soft and juicy filling – the curd stollen strudel will appeal to everyone, without exception!

An apple roll cake made from curd yeast dough will be equally good with a cup of tea and a glass of milk.
Bon Appetit!
Also Like
Comments for "Curd Strudel with Apples"