Apple Strudel
by Editorial Staff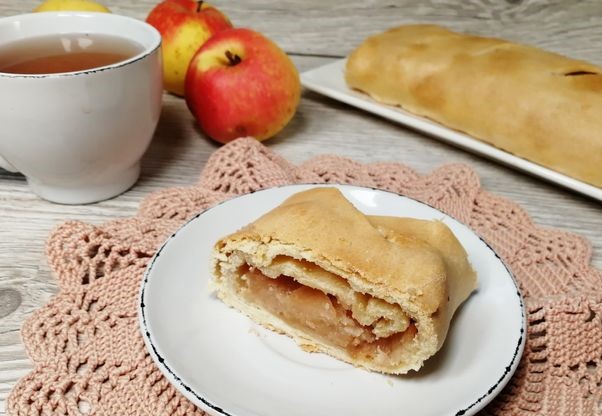 With a little effort, you can make a wonderfully delicious dessert for tea at home – apple strudel.
Ingredients
For the dough
Flour – 1.5 cups
Egg – 1 pc.
Butter – 25 g
Water – 30 ml
Sugar – 1 tbsp
Salt – 1 pinch
For filling
Apples – 300 g
Sugar – 1 tbsp
Ground crackers (or bread crumbs, chopped shortbread cookies) – 1/4 cup
Ground cinnamon – 1/2 teaspoon
Butter – 10 g
To lubricate the strudel
Milk – 30 ml or an egg – 1 pc.
Directions
We prepare the ingredients for the dough.
We take the oil out of the refrigerator in advance.
You can use bread crumbs or crushed shortbread cookies instead of rusks.
Beat the egg with a whisk with sugar and a pinch of salt. Then add water and stir until sugar dissolves.
Sift flour into a bowl, add softened butter and egg mixture. Knead the dough.
Wrap the dough in foil and send it to the refrigerator for 30-40 minutes.
We prepare the rest of the products.
Turn on the oven to heat up to 180 degrees

Peel and core the apples and cut into slices.
Melt the butter.
Roll out the dough into a rectangle about 2-3 mm thick. Lubricate with melted butter.
Put apples on one edge of the dough. Sprinkle with sugar, cinnamon and breadcrumbs.
We wrap the dough in a roll.
Place the strudel on a baking sheet covered with parchment. I used a glass mould.
Lubricate the strudel with milk or a beaten egg on top. We make small cuts.
Bake the strudel for 25-30 minutes.

The apple strudel is ready.
Enjoy your meal!
Also Like
Comments for "Apple Strudel"