Apple Strudel
by Editorial Staff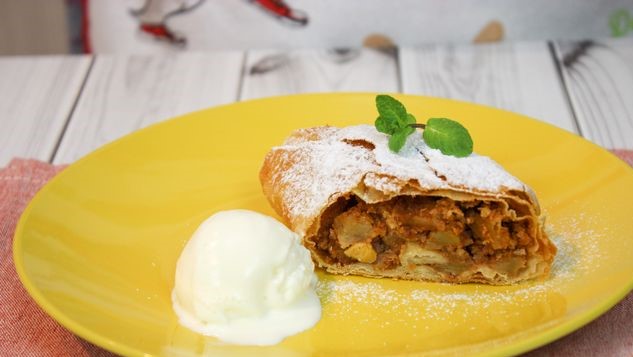 Classic apple strudel is a thinly stretched dough, crispy crust and fragrant juicy filling! Real apple strudel is delicious! Simply and easily!
Ingredients
For the dough
Wheat flour – 250 g + for working with dough
Salt – 0.5 teaspoon
Egg – 1 pc.
Warm water – 100 ml
Vegetable oil – 20 ml (a little more than a tablespoon) + for greasing the dough
Melted butter – 100 g
For filling
Sweet and sour apples – 800 g (6 pcs.)
Ground butter crackers – 70 g
Raisins – 180 g
Sugar – 3 tbsp (to taste)
Ground cinnamon – 7 g
For decoration
Powdered sugar – to taste
To serve
Creamy ice cream (or whipped cream)
Directions
Cooking stretched dough.
Sift the flour. Add salt. We mix.
We make a small depression in the flour, add an egg, vegetable oil and warm water.
Collect the dough with a spoon.
Knead the elastic dough with your hands. To make the dough stop sticking to your hands, you need to knead for 10-15 minutes. Sprinkle flour on the table if necessary.

Grease the dough with vegetable oil, wrap with cling film and leave for 30 minutes at room temperature.
Cooking the filling.
Rinse the raisins and fill with hot water for 10 minutes. Then drain the water, dry the raisins with a paper towel.
Peel and core the apples and cut them into small pieces.
Add raisins, crackers, sugar and cinnamon to the apples. Mix the filling well.

We turn on the oven to heat up to 190 degrees.
Cover the baking sheet with baking paper.
Sprinkle the work surface and dough with flour. Use a rolling pin to roll out the dough from the centre to the edges.
Sprinkle flour on the back of your hands. We put our hands (bent fists) under the dough and gently stretch it in all directions. The dough is elastic and stretches well.
The dough should be very thin.
Transfer the layer of dough to a napkin.
If the edges are thick, it is better to cut them off.
Slightly retreating from the edge, lay out the filling with a slide along the entire length. We press the filling.

Raise the edge of the dough and close the filling.
Grease the dough with melted butter.
We roll the filled dough into a roll, helping with a napkin.
Transfer the roll to a baking sheet.
Lubricate the strudel with melted butter on top.
We bake the apple strudel in a preheated oven for about 30 minutes, until golden brown.
Leave the hot strudel for 20 minutes to cool. Sprinkle the strudel with powdered sugar before serving.

Serve the apple strudel with a scoop of ice cream or whipped cream.
Cook and treat yourself and your loved ones with a delicious dessert!
Enjoy your meal!
Also Like
Comments for "Apple Strudel"