Donuts Curd with Apricots
by Editorial Staff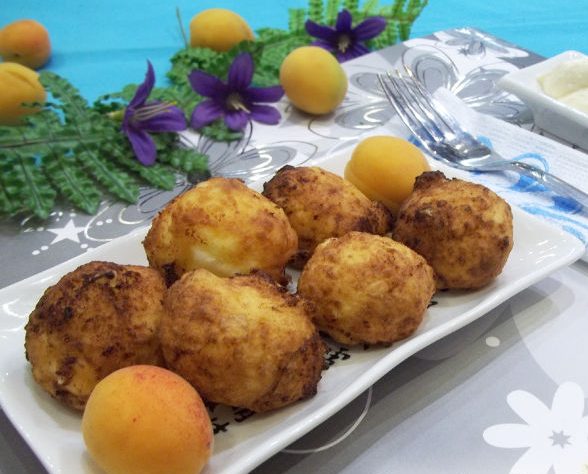 Today I cooked curds. These are soft fried cottage cheese balls that are very easy to prepare and make a good breakfast option. The products for this dish are affordable and simple. And the surprise of these curds is the filling of apricots.
Ingredients
Cottage cheese – 300 grams
Apricots – 6-7 pcs.
Egg – 1 pc.
Flour – 100 grams
Salt – a pinch
Sugar to taste
Vegetable oil – for cooking
Directions
Put the cottage cheese on a plate and add the flour.
Send eggs, sugar, salt there and knead the dough well.
Wash the apricots, remove the pits and cut each wedge into quarters. This will be the filling.
Sprinkle the board with flour, put a portion of cottage cheese on it, and put a piece of apricot in the middle.
Then lift the edges of the curd with your hands and hide the apricot inside.
Roll each curd into a ball on aboard.
Pour vegetable oil into a deep fryer, saucepan, or mug and place it on the stove to boil.
Dip the curd balls into the heated oil to fry.
The oil will sizzle and bubbles will form.
Put the deep-fried apricot curds on a paper towel to drain off any excess fat.
The curds with apricots are ready. Serve the curds with sour cream and apricots.
Also Like
Comments for "Donuts Curd with Apricots"