Curd Donuts-4
by Editorial Staff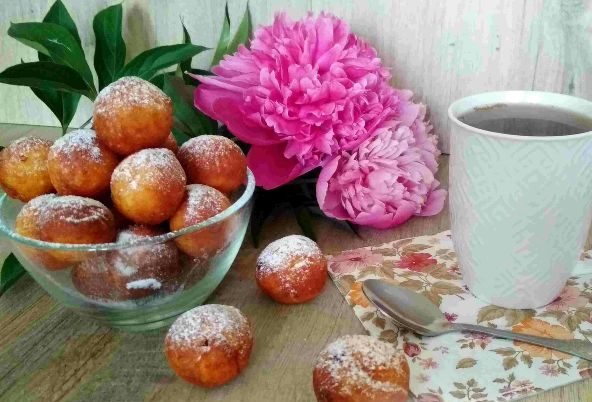 The curd donuts are so delicious they are eaten instantly! Can be cooked in the oven or deep-fried.
Ingredients
Eggs – 1 pcs.
Vegetable oil – 1 tbsp
Cottage cheese – 200 g
Flour – 100 g + 20-30 g (to form donuts)
Baking powder – 1 teaspoon
Sugar – 1 tbsp
Vanilla sugar – 1 teaspoon
Salt – 1/4 teaspoon
Directions
Add one egg, sugar, vanilla sugar, salt, vegetable oil to the curd.
Combine all the ingredients with a blender.
Gradually adding flour with baking powder, knead the dough with a spoon, it should turn out sticky, but you should not add more flour. Raisins can be added to the dough if desired. I cook two options at once: with and without raisins.
We spread the dough on a floured surface, form a long flagellum, and divide it into 24 equal parts.
Roll each piece into a ball.
Fry in well-heated oil over a slightly below medium heat, turning from time to time so that the donuts are evenly fried on all sides. There should be enough oil for the donuts to float freely in it.
We take it out on a napkin so that the glass has excess oil.
These donuts can be cooked in the oven at 180 degrees. You need to bake for 10-15 minutes.
Sprinkle the warm curd donuts with icing sugar.
They turn out to be very airy and tender. Delicious both warm and cold.
Cook such donuts for your family and friends, it's very tasty, fast and not difficult at all!
Bon Appetit!
Also Like
Comments for "Curd Donuts-4"