Curd Donuts
by Editorial Staff
Cooking delicious, ruddy donuts from curd dough. The shape of the curd donuts may vary, but ring donuts will fry faster and require less oil when frying.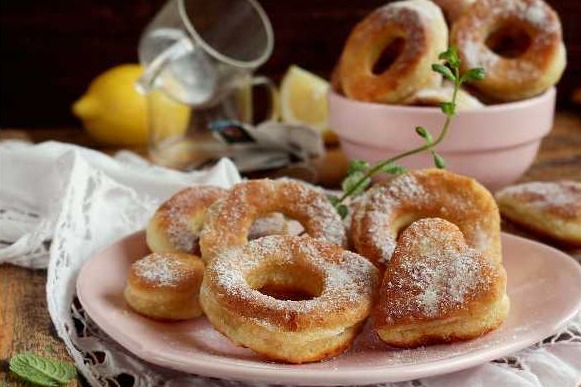 Cook: 30 minutes
Ingredients
Cottage cheese – 250 g
Eggs – 2 pcs.
Sour cream – 75 g
Flour – 250 g
Sugar – 20 g
Salt – 1/3 teaspoon.
Soda – 1 teaspoon. (no slide)
Powdered sugar – about 50 g
Refined vegetable oil – about 100 ml
Vanilla or cinnamon, zest (optional) – to taste
Directions
Add eggs to the curd . (If the curd is grains, rub it through a sieve.)

Mix with sugar, salt and sour cream.
Beat until smooth. Aromatize with vanilla, zest, cinnamon if desired.
Mix the sifted flour with soda separately.
Pour flour into the liquid mixture.
Knead soft and slightly sticky curd dough.
Sprinkle flour on a board and a rolling pin – roll out a layer of curd dough about 7-8 mm thick.
Cut out rings with a diameter of 8 cm from the dough. If you wish, you can cut out figures in the shape of a heart, etc., for Valentine's Day.

We spread the workpieces in a pan with well-heated vegetable oil. The butter should reach the middle of the donut. Fry curd donuts under the lid until golden brown on the bottom.
Turn over and fry the donuts on the back, also under the lid.
To make the donuts rise and bake well inside, be sure to cover them with a lid when frying.
We keep the finished fried curd donuts on paper for a couple of minutes, which will absorb excess oil. Then sprinkle with icing sugar.

We serve delicious cottage cheese donuts with tea, coffee and other favorite drinks.
Bon Appetit!
Also Like
Comments for "Curd Donuts"