Curd Donuts-5
by Editorial Staff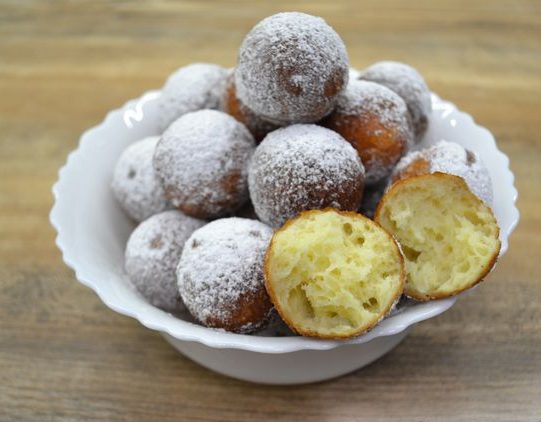 Lush, delicious curd ball donuts from childhood.
Ingredients
Curd 9% – 400 g
Egg – 1 pc.
Sugar – 1-2 tbsp
Wheat flour – 150 g (1 glass of 250 ml)
Baking dough – 1 teaspoon
Salt – 1 pinch
Vanillin – 1 g
Vegetable oil for frying – about 500 ml
Powdered sugar (for sprinkling on finished donuts) – to taste
Directions
It is better to take cottage cheese homogeneous and not wet. I have cottage cheese with a fat content of 9%. You can use cottage cheese and 5% fat, but if there is excess whey in it, it is better to wrap the cottage cheese in cheesecloth and leave for 20 minutes to dry a little. Otherwise, you will have to add more flour. Combine cottage cheese with sugar, salt, egg, and vanilla. Mix well.
Sift flour with baking powder to the curd mass and knead the dough. You don't need to knead the dough for a long time.
Form the dough into walnut-sized balls. (From the specified amount of dough, about 30 balls are obtained.)
Heat the oil well for frying. We dip the curd balls in the butter, they should float freely in it. Fry curd donuts over medium heat, or slightly below medium, stirring occasionally, until tender and rosy. This will take about 10 minutes.
We spread the balls with a slotted spoon on paper towels so that the glass has excess oil. Cool a little.
Sprinkle the curd donuts generously with powdered sugar on all sides.
Also Like
Comments for "Curd Donuts-5"