Fried Curd Donuts
by Editorial Staff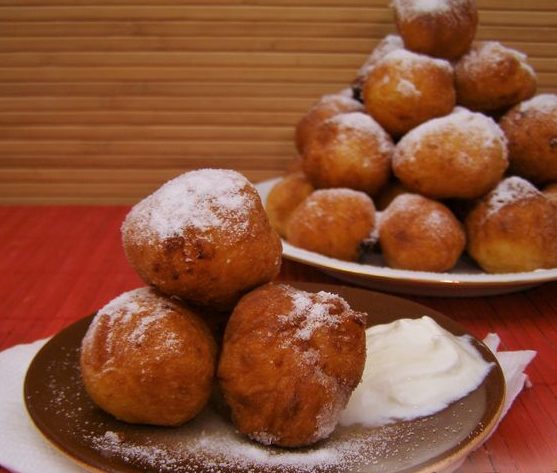 Among the many cottage cheese dishes, there are delicious and ruddy cottage cheese balls. The recipe for fried curd balls can be called one of the options for the recipe for curd cakes. Cheesecakes in the form of golden balls look more original and appetizing.
Ingredients
Cottage cheese – 800 g
Eggs – 6-8 pcs.
Sugar – 2-4 tbsp
Sour cream – 100 g
Butter – 50 g
Flour – 250-350 g
Flour for bedding – 100-150 g
Salt – 0.5 teaspoon
Vegetable oil for frying – 1.5-2 cups
Directions
Squeeze the cottage cheese well and rub through a sieve.
Melt butter.
Beat eggs and mix with sour cream, sugar, mix. Gently add melted butter in portions.
Combine with cottage cheese. Mix.
Gradually add flour and salt, stirring constantly.
Knead the dough. If the chicken eggs are large, the cottage cheese is fatty or wet, then more flour is needed. The dough should be soft, but so that it can be rolled out. You can shape curd balls in different ways. This recipe offers two methods.
Method number 1.
Roll out the dough into a layer 1.5-2 cm thick.
Cut out the tortillas.
Roll balls out of them.
Method number 2.
Form the dough into a "sausage" about 3 cm thick.
Cut into slices.
Make balls from the pieces.
Dip the curd balls in flour. Or you can dip the balls in an egg and roll in breadcrumbs.
Heat vegetable oil in a deep cauldron of small dia. Gently dip the curd balls into the boiling oil.
Deep-fry the curd donut balls until golden brown (7-10 minutes). If necessary, turn the balls over one or more times for more even frying.
Put the finished curd balls on a paper towel so that the excess oil is absorbed.
You can sprinkle curd balls with powdered sugar and serve with sour cream.
Bon Appetit!
Also Like
Comments for "Fried Curd Donuts"