Fried Donuts
by Editorial Staff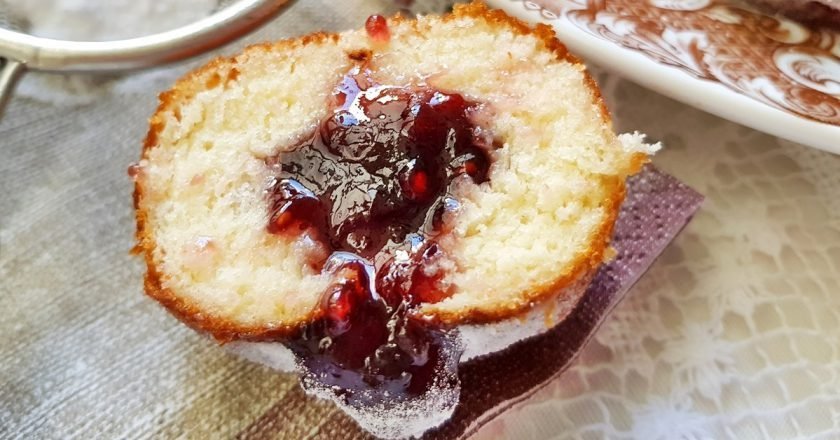 Crispy crust, soft dough, favorite filling – everyone will love this dessert!
Ingredients
Milk 250 ml
Wheat flour 3 cups
Yolks 4 pcs.
Butter 100 g
Dry yeast 2 teaspoon
Rum 2 tbsp
Sugar 1 tbsp
Salt 0.5 teaspoon
Vanilla sugar 0.5 teaspoon
Lemon zest 1 teaspoon
Cinnamon 0.5 teaspoon
Sunflower oil to taste
Strawberry jam 70 g
Powdered sugar to taste
Directions
Heat the milk, dilute the yeast in it. Pour in 2 stacks. flour, stir until smooth. Cover the bowl with a clean towel and let sit for 2 hours.
Whisk yolks with salt, sugar, and vanilla sugar until white. Pour over the dough with a spatula, add the soft butter, yolk mass, rum, cinnamon, and zest. Stir in gradually adding the remaining flour.
Blind a ball, transfer to a bowl, cover with a clean towel, and leave in a warm place for 1-1.5 hours. Lubricate the surface with vegetable oil, lay out the dough, knead and divide into 8-12 parts. Roll each into a ball and set aside to prove.
After 20-25 minutes, heat the vegetable oil in a deep skillet and fry the donuts until golden brown.
Place on paper towels to drain off grease. Stuff the donuts with a cooking syringe, choosing the filling of your preference.
Sprinkle the donuts with powdered sugar and serve with tea, compote, coffee, or other drinks. The filling can be other jams, jam, condensed milk, or chocolate paste, you can make an assortment.
Also Like
Comments for "Fried Donuts"