Custard Donuts
by Editorial Staff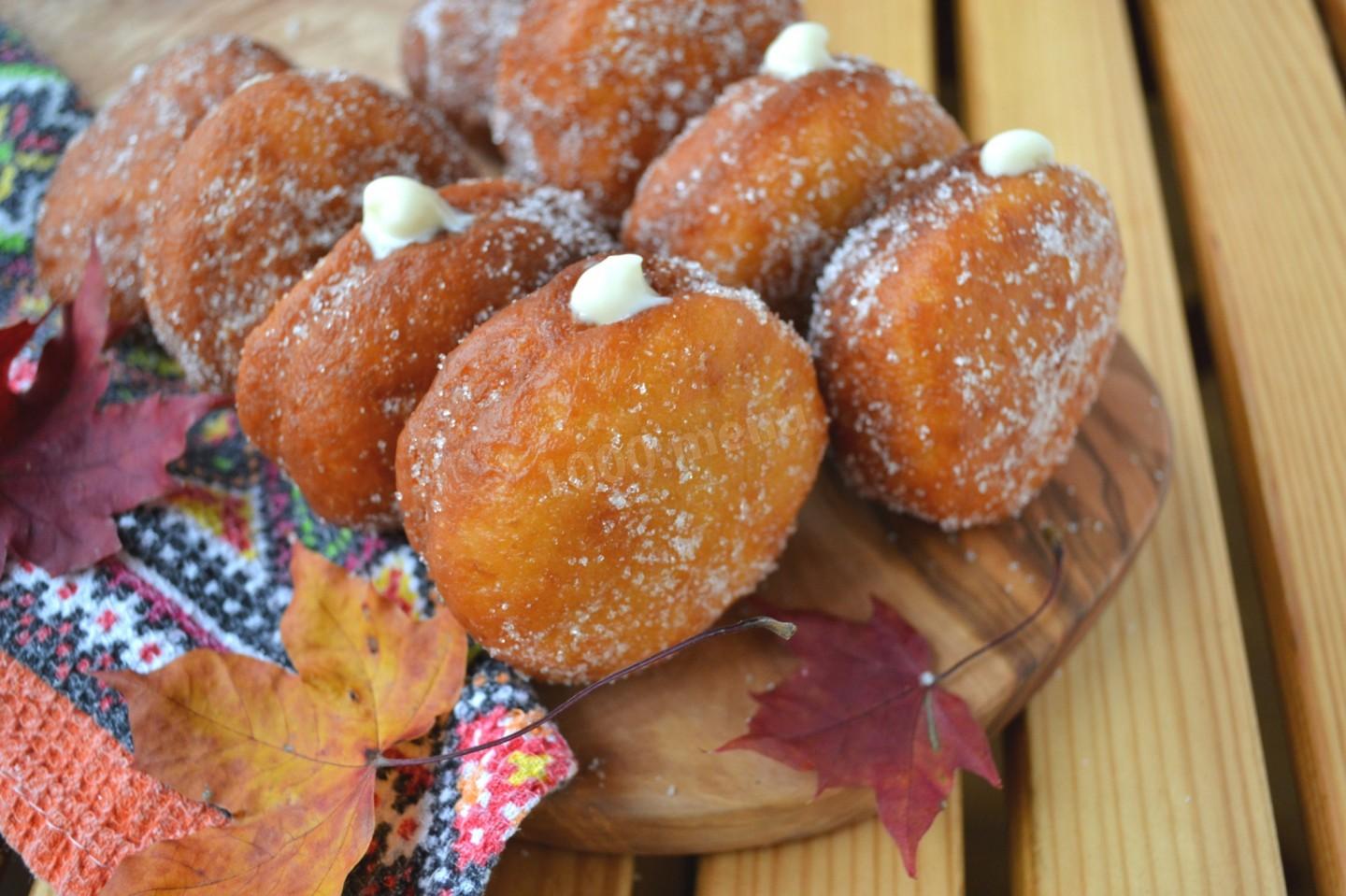 Delicate, creamy, donuts from childhood! Eat instantly! What could be tastier than an appetizing, tender, creamy, moderately sweet donut? Well, of course, a donut with a filling! From the simplest ingredients that every housewife surely has at hand.
Ingredients
Yeast 30 g
Wheat flour 550 g
Egg 3
Sunflower oil 50 ml
Cognac 50 ml
Sugar 250 g
Milk 850 ml
Directions
First, you need to prepare dough for yeast dough. Heat the milk until slightly warm. Add sugar and yeast. Stir and add 150 grams of flour. Mix thoroughly, cover with a towel, and put in a warm place for 20 minutes.
Add an egg, melted butter, 350 grams of flour, salt, and vanilla to the dough. We knead the dough. Cover the dough with a towel and put it away for proofing for about 35-40 minutes, the dough should double in volume. Next, knead the dough and put it on the second rise for another 30 minutes.
Roll out the dough into a layer about 1.5 cm thick. Cut out blanks for future donuts with a glass. Cover the blanks with a towel and let them stand for about 20-25 minutes while preparing the custard.
Mix sugar with starch. Add vanilla and 100 grams of milk to the egg, mix, add sugar and starch and mix thoroughly. Bring 200 grams of milk to a boil and pour in a thin stream to the egg mixture. Stir, pour the mixture into a saucepan, and over low heat, stirring constantly with a whisk, bring the cream to thickening. As soon as the cream thickens, remove from heat, transfer to a cold bowl, cover with cling film and let the cream cool.
Add room temperature butter to the cream and punch with a blender until smooth. We transfer the cream into a pastry bag with a special nozzle.
We heat the vegetable oil. Fry donuts on both sides until golden brown. Put the finished donuts on paper towels to absorb the excess oil. Dip each donut in sugar or powdered sugar.
In each donut on the side we make a hole with a knife, fill it with cream. The donuts are ready.
Bon Appetit!
Also Like
Comments for "Custard Donuts"