Coffee Donuts
by Editorial Staff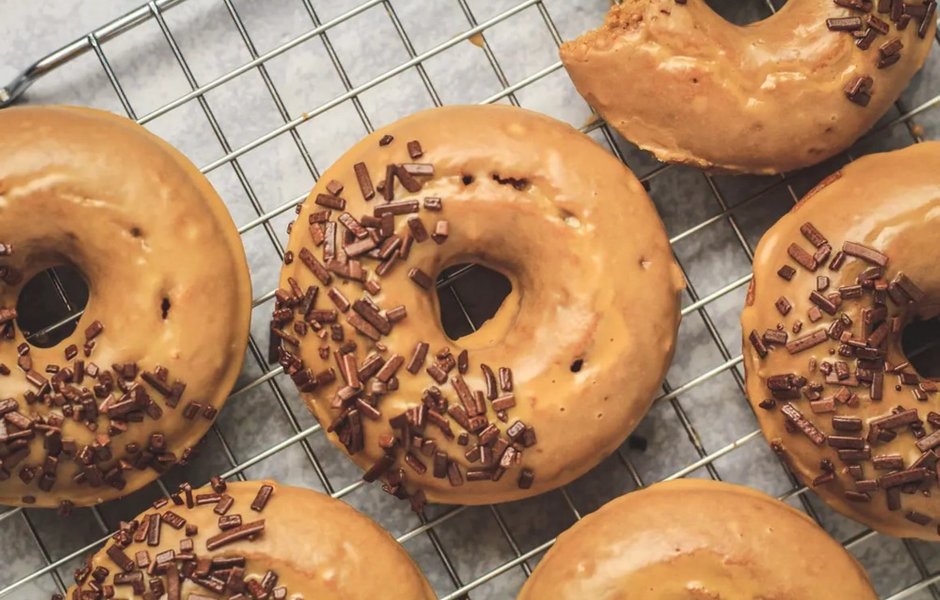 Lush, iced coffee donuts are oven-baked and contain far fewer calories than fried donuts.
Ingredients
Instant coffee 2 tbsp
All-purpose flour 190 g
Baking powder 1 teaspoon
Salt 1/4 teaspoon
Nutmeg 1/4 teaspoon
Large egg 1 PC.
Sugar 100 g
Buttermilk or low-fat kefir/yogurt 60 ml
Vegetable oil 60 ml
Vanillin on the tip of a knife
For glaze:
Warm milk 60 ml
Instant coffee 1 tbsp
Powdered sugar 280 g
Directions
Preheat oven to 200 ° C. Lightly greases the donut pan. In a small bowl, dissolve 2 tbsp coffee in 60 ml of warm water.
Combine flour, salt, baking powder, and nutmeg.
In another bowl, beat the egg and sugar. Add buttermilk (kefir), vegetable oil, vanillin, and dissolved coffee. Beat until smooth. Add dry ingredients and stir again until smooth. Pour the finished dough into a donut mold.
Bake for 8-10 minutes. Donuts can be checked with a toothpick if they are ready. Cool the donuts for 5-10 minutes, then transfer to a dish or wire rack to cool completely. While the donuts are cooling, prepare the icing. Mix warm milk and coffee and beat until smooth.
Add powdered sugar and stir until smooth. Dip the top of the donuts into the icing, leave for 20-30 minutes to set the icing, and serve.
Bon Appetit!
Also Like
Comments for "Coffee Donuts"