Classic Donuts
by Editorial Staff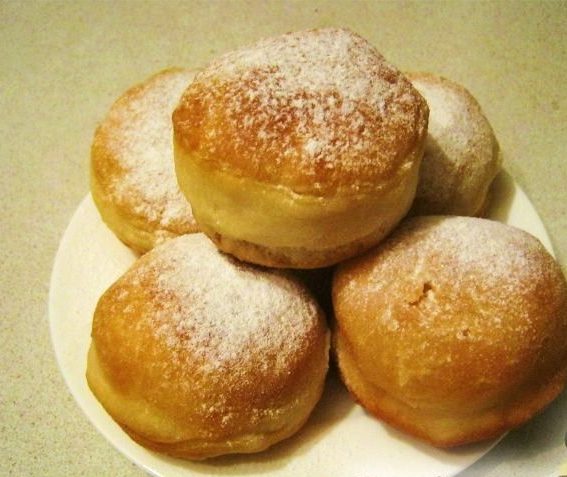 Donut recipes are of course very varied, but real donuts should be made from yeast dough. The donuts, the recipe for which is offered here, are real, classic. Deep-fried donuts can be made with or without jam filling.
Ingredients
Milk – 60 ml (0.25 cups)
Large egg – 1 pc.
(or 2 yolks)
Butter – 70 g
Flour – 250-300 g (about 2 cups)
Fresh yeast – 30 g
(or dry yeast – 11 g)
Salt – 0.25 teaspoon
Sugar – 3 tbsp
Egg white or egg (for greasing the dough) – 1 pc.
Jam, thick jam or jam (for filling) – 0.5 cups
Powdered sugar (for sprinkling on donuts) – to taste
Refined vegetable oil – for deep-fat (300-500 ml)
Directions
Prepare the required ingredients.
Grind yeast with 1 teaspoon of sugar. Add warm milk, flour (about 0.5 cups), stir, cover with a towel, and leave to rise for 15-20 minutes.
Melt the butter over the lowest heat or in the microwave. Cool down. Beat the egg (or yolks) with the remaining sugar and salt. Combine the matched dough with a beaten egg (or yolks) and melted butter. Add the sifted flour in parts, knead the dough.
Knead the dough until it begins to lag behind the hands and the walls of the dish. Do not add excess flour, the dough should be soft. You can grease your hands with vegetable oil while kneading the dough. Leave the dough in a bowl for 20-30 minutes for proofing in a warm place without drafts. Be sure to cover with a towel.
After proving, roll out the dough into a layer 0.5 cm thick on a surface lightly floured. Cut out circles with a glass or mold.
In the middle of half of the resulting circles of dough, put a little thick jam, jam, or jam. Brush the edges of the dough with egg white or beaten egg, cover the top with the remaining circles of dough and pinch the edges.
Cover the donuts with a towel and leave to proof for 10-15 minutes.
Heat the vegetable oil well in a cauldron. There should be enough oil in the frying pan that it almost completely covers the donuts. The temperature of the oil for deep-fat is 175-180 ° С. You can check if the oil is heated with a piece of bread: it should sink and float up very quickly with a hiss, or lower the wooden spatula – bubbles form around it. Gently put 4-5 donuts in heated oil (so that they float freely in the oil) and fry until golden brown on both sides, about 3-4 minutes on each side.
Remove the finished donuts with a slotted spoon and put on a sieve or paper napkin to allow excess oil to glass.
Cool the donuts and sprinkle with icing sugar.
Bon Appetit!
Also Like
Comments for "Classic Donuts"